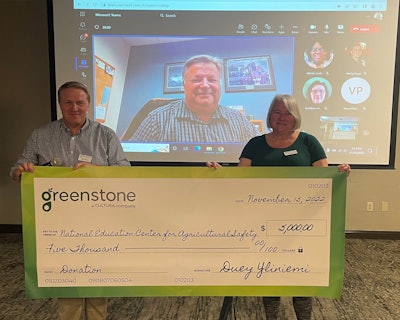 Greenstone Systems, a Cultura Technologies company, presented a donation to the National Education Center for Agricultural Safety (NECAS) during its employee meeting in Alpharetta, Gerogia, on November 15, 2022.

The donation goes toward helping the NECAS promote awareness for safety and training, as well as the well-being of the lives throughout ag communities.
"Greenstone looks for opportunities to give back to local ag communities," said Duey Yliniemi, general manager at Greenstone. "After Jenifer submitted a recommendation to support the NECAS, we were excited to support her request.
"We recognize that Greenstone and NECAS have a common footprint across the United States," continued Yliniemi. "For this reason, our donation will have an impact on the fabric of rural America to promote the health and well-being of those throughout the entire ag industry."
NECAS offers a comprehensive list of rescue programs and safety trainings. Click here for more information.