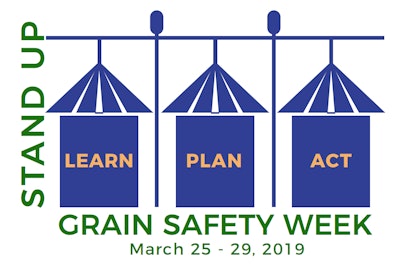 This four-part webinar series, presented by the Grain Handling Safety Coalition is part of the National Stand-up for Grain Safety Week, a week of awareness taking place March 25-29.
Tuesday, March 26, 2 p.m. CT
Safe Practices For Entrapment/Engulfment Prevention
Presented by Jeff Decker, President/Owner, Decker Consulting and Investigation Services, Inc., GHSC Board President.
Wendesday, March 27, 2 p.m. CT
Fall Prevention Strategies - Raise Risk Awareness For STFs & Use of Personal Fall Protection
Presented by David Newcomb, Ag Rescue Program Manager, Illinois Fire Service Institute, Retired Lieutenant, GHSC Technical Advisor & Trainer
Thursday, March 28, 2 p.m. CT
Lockout/Tagout - Identifying Gaps Between Procedures and Work Tasks
Presented by Douglas Clark, Regional EHS Safety Leader North America, Cargill Animal Nutrition
Friday, March 29, 2 p.m. CT
Machine Guarding - Locate & Fix Hazards
Presented by John Lee, Director of Safety-Health-Environmental Services, GFAI, GHSC Technical Advisor & Trainer
Any questions, call Webinar Manager Kendall Trump at 217-413-4050.