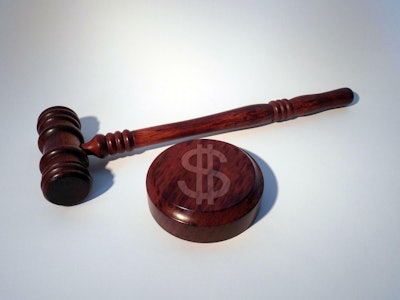 On Sept. 12, 2022, 34-year-old Travis Thelander's attempt to clean out a Roseland, Nebraska grain silo, in preparation for fall harvest, turned tragic when corn engulfed and asphyxiated him.
An investigation by the U.S. Department of Labor's Occupational Safety and Health Administration (OSHA) at CHS Inc. – operating as Agri-Service Center Roseland – found the employer disregarded federal regulations designed to prevent such tragedies and found the worker's personal protective equipment was not adequate for protection from engulfment hazards. Thelander died onsite.
OSHA has proposed $531,268 in penalties and placed the company in its Severe Violator Enforcement Program.
CHS failed to equip employee with adequate equipment

OSHA also determined the company failed to equip the employee with an adequate body harness and lifeline that coworkers could have used to rescue him. Inspectors discovered the company kept a retractable lifeline tripod onsite, a device not designed for side entry onto grain, and had no adequate alternative method available to protect workers in silos.
"The dangers of working inside grain bins are well-known and safety standards have been in place for decades," said OSHA Area Director Matthew Thurlby in Omaha, Nebraska. "Despite our continued outreach and enforcement activity in this highly hazardous industry, we continue to see preventable fatalities. Agri-Service Center Roseland should know that safety standards and proper training, procedures, and equipment can make the difference between life and death. Expediency should never be put ahead of worker safety."
OSHA issued citations for 16 violations – two willful and 14 serious – for allowing workers to enter bins with grain build-up, and for failing to develop procedures for entering permit-required confined spaces, ensure emergency services were available, recognize and evaluate hazards and train workers, and implement machine safety procedures to prevent grain bin equipment from running while workers were inside bins.

Focus on grain handling safety

Through its alliance program, OSHA has partnered with the Grain Handling Safety Coalition, Grain Elevator and Processing Society and National Grain and Feed Association to address hazards, reduce risks and improve safety and health management systems to help prevent life-altering injuries and fatalities.
The company has 15 business days from receipt of its citations and penalties to comply, request an informal conference with OSHA's area director, or contest the findings before the independent Occupational Safety and Health Review Commission.
From March 27-31, 2023, the National Grain and Feed Alliance will participate in its annual Stand Up 4 Grain Safety Week with a focus on making small changes for a big impact to improve safety in this high-hazard industry.
Grain quality education opportunity
This month, Feed & Grain will host the webinar SLAM 360: The full circle of grain quality preservation, featuring presenter Dr. Dirk Maier, director of the ISU Kent Corp. Feed Mill and Grain Science Complex and professor for the Department of Agricultural and Biosystems Engineering; Department of Animal Science at Iowa State University.
In the first installment of this multi-part webinar series, you'll hear why grain quality can never be improved once it's harvested from the field, but it can be maintained. You'll also gain knowledge on how to properly sanitize grain bins, clean grain before binning and protect it from weather, pests, self heating, molds and mycotoxins.
The webinar will broadcast live at 1 p.m. Central on Wednesday, March 29. Registration and other details can be found here.
Avoid entering grain bins whenever possible
When it comes to grain bin safety, the most important tip to remember is DO NOT ENTER a grain storage unit unless absolutely necessary.
Incidents potentially can occur when a worker stands next to or underneath bridged or cliffed grain inside of a grain bin.
Click here to learn more tips for safely entering grain bins.