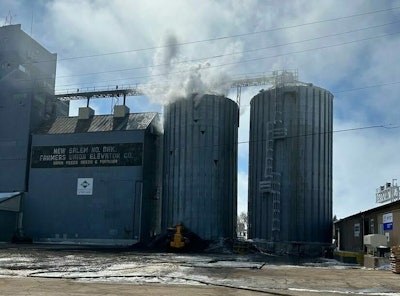 Crews from multiple departments spent 24 hours putting out a fire inside a grain bin on Main Street in New Salem, North Dakota. The fire began April 6.
According to a post on Facebook from the New Salem Fire Department, emergency crews responded to the facility in the late afternoon on April 6 to a smoldering fire inside a 200,000-bushel grain bin containing sunflowers.
Mandan City Fire Department provided mutual aid, helping to cut holes in the bin and remove some of the sunflower seeds.
New Salem Fire Department said crews poured thousands of gallons of water into the bin to put the fire out and prevent it from spreading to an adjacent grain elevator.
Crews then monitored the grain bin for additional flareups through the night and into the morning, applying additional water into the bin when flareups occurred.
No injuries were reported.