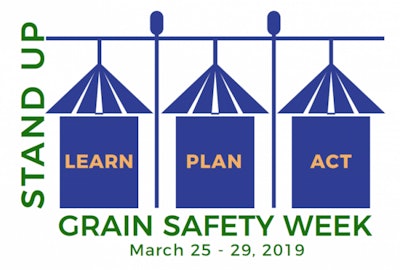 National Stand Up for Grain Safety Week got underway in Bloomington, IL, yesterday and those in the industry are discussing the dangers they face working in grain bins, reports HOI ABC.
Several demonstrations were held at the kick-off event. One showed how to pull someone out of a grain bin if they are submerged.
Other major hazards are entanglement, dust explosions, and electrical fires.
OSHA and the National Grain and Feed Association partnered together to bring awareness to those working around grain bins, reported Central Illinois Proud. The ultimate goal of the training is to save lives.
"Agriculture in Central Illinois is the main industry," Industry Chairman for the National Grain and Feed Assocation Eric Wilkey told Central Illinois Proud. "And it's an environment that we work around a lot of equipment and have a lot of exposure, potentially and so we really want to heighten the awareness and safety for all our employees that work in our industry."
For more information on the National Stand Up for Grain Safety Week, click here.