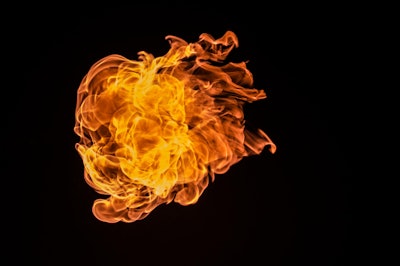 A grain bin explosion occurred at the BioUrja ethanol plant in Peoria, IL, on May 11, causing more than $2 million in damage.

"Due to the severity of the incident, crews were unable to make entry to fully extinguish the fire," said Peoria Battalion Chief Steve Rada in a press release.
"Fire crews are currently monitoring the situation from a distance due to structural issues as well as a high level of CO2 in the atmosphere."
Heavily damaged grain bins
According to reports, when firefighters arrived Wednesday night, they found several large grain bins that were on fire and heavily damaged.
The Peoria Fire Department said two 150-foot grain silos collapsed, and a small fire had broken out in a third silo at the plant.
Two employees were treated for smoke inhalation at a local hospital for non-life-threatening injuries.

Rada said there are three silos that are leaning over, with a lingering fire. A fourth is on the ground.
"The other silos(that haven't been affected yet seem stable at this time," he said. "This is an extremely dangerous situation as this is a fire, haz-mat and a confined space issue."
The damage appears to be isolated to the grain silos and storage sides of the facility, with no effect on the distillation section of the plant.

The mid-sized plant, which can produce 135 million gallons of ethanol produced per year, will remain closed as the company and Illinois Department of Labor, Division of Occupational Safety and Health look into the cause of the explosion and fire.
In October 2021, ADM sold the plant to BioUrja Group.