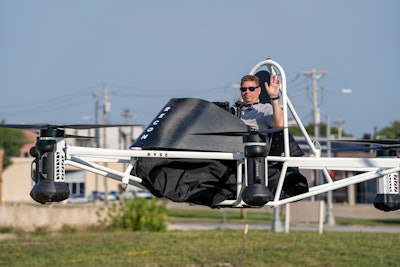 Courtesy of Landus Facebook page
For the second time this year, the Landus Innovation Connector has opened its doors to farmers to showcase the latest technologies and strategies in ag.
This year the Innovation Connector: Summer Series had multiple highlights that spanned innovation in healthcare management systems to cockpit-piloted sprayer drones. Across these innovations, attendees rotated through seminars that covered the updated Innovation Connector space with six new vendors since the spring series, a reinvented Landus finance department and a revolutionary way for farmers to access affordable healthcare.
Over 300 guests joined president & CEO Matt Carstens for the first two dates of the fifth Innovation Connector Series. Starting with opening statements from Carstens, guests reviewed the annual numbers from the last fiscal year, previewed new programs like healthcare through Otegrity, advancements in Landus Conduit, new financing options, and highlighted the small business vendors that participated in the spouse/guest segment of the Innovation Connector.
Producer healthcare highlighted
Since the last Innovation Connector Series, healthcare was highlighted as one of the most concerning topics for farmers. During Carstens' opening remarks, he unveiled that Landus has commissioned Otegrity to provide tailored healthcare options for Landus members.
As the Landus GROW Solutions Center team has expanded and increased the number of farmers Landus can serve, the new business venture branch of Landus, Conduit, has drummed up business outside the state of Iowa. The farmer is put at the center of what they both do through these two expanding models.
Rounding out the evening, guests were invited to spend the evenings on the rooftop patio for drinks and face time conversations with Landus staff members. The Innovation Connector Summer Series continues into September.