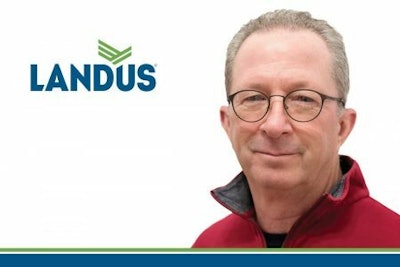 Landus has has launched Landus Conduit, LLC, a wholly owned subsidiary of Landus which will extend the intellectual capital and capabilities of the cooperative into new markets and geographies.
Bruce Vernon, most recently with The Equity, has joined the executive leadership team to lead Landus Conduit.

What is Landus Conduit?

According to the company, Landus Conduit will connect farmers, aligned agriculture and grain organizations with collaborators to streamline supply chain and access incremental value.
Collaborations will benefit from new service options through the Landus GROW Solutions Center and financing partners to create new capabilities and channels for sustainability across all segments.
"At Landus, we continually explore ways to bring value to our farmer-owners," said Matt Carstens, president and CEO. "The opportunity to add someone like Bruce to our team and engage collaborating companies through Landus Conduit adds increasing value for progressive farmers looking for leadership and engagement from their strategic partners."
Vernon has deep industry experience

Vernon joins Landus after almost eight years with The Equity, Effingham, Illinois, a large independent agricultural cooperative in Illinois, where he and his team led the organization to record sales and income.
He also brings retail and wholesale experience domestically and globally with companies like Koch Agronomic Services, Viterra, Mid-Kansas Coop and Agriliance.
"It's a tremendous opportunity to apply my career experience and wide network to an innovative and agile company like Landus that is redefining the meaning of a cooperative," said Vernon, Landus Conduit leader.
"As we work through the possibilities for applying Landus' core offerings through adjacent partners, we recognize numerous opportunities to create more value for our farmer-owners and partnership network. It's an exciting time to be a part of this organization."
Initially, reporting to Vernon will be grain teams from Consus and the Landus cross-country trading team. His team will expand to include experienced solution providers across the agricultural value chain in the sustainable production of food, fiber and fuel.
Vernon will lead Landus Conduit from the Kansas City office and can be reached at Bruce.Vernon@Landus.Ag.