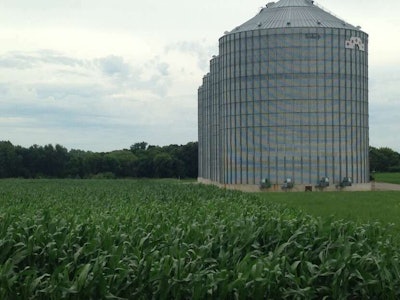 Purdue's 2020 Summary of U.S. Agricultural Confined Space-Related Injuries and Fatalities, the most recent they have completed, states 64 fatal and non-fatal cases involving agricultural confined spaces: 35 included grain entrapments.
The report's authors noted that, more than likely, this is not a complete list, as it is compiled of "news clippings from local sources, work product from civil litigation, published personal accounts and voluntary reporting."

Entering a grain bin with grain in it can be dangerous; in an ideal world, no one would enter a grain bin where grain entrapment is a risk.
The most common reason for grain bin entry is out-of-condition grain which has caused the grain to stop flowing out of the bin.
Commercial grain handling equipment providers sell bin whips and other tools that break up out-of-condition grain without the need for anyone to enter the bin.
New technology like the Grain Weevil, a robot that burrows and digs through grain breaking up and preventing grain bridges, will soon come to the market. But this is not an ideal world. Sometimes, equipment that can break up out of condition grain isn't available.
Grain bin entry safety is the law
Once all other options are exhausted, and you need to enter a grain bin, and you work at a commercial grain operation, you should be following the U.S. Department of Labor (DOL) Occupational Safety and Health Administration (OSHA) Grain Handling Standard (29 CFR 1910.272). It requires employers to make sure:
De-energize (turn off) and disconnect, lockout and tag, or block off all mechanical, electrical, hydraulic and pneumatic equipment that presents a danger, particularly grain-moving equipment. Grain must not be emptied or moved into or out of the bin while workers are inside because it creates a suction that can pull the worker into the grain in seconds.
Prohibit walking down grain and similar practices where a worker walks on grain to make it flow.
Prohibit entry onto or below a bridging condition or where grain is built up on the side of the bin.
Provide each worker entering a bin from a level at or above stored grain, or when a worker will walk or stand on stored grain with a body harness with a lifeline or a boatswain's chair. Ensure the lifeline is positioned and of sufficient length to prevent a worker from sinking further than waist-deep in grain.
Prohibit entry onto or below a bridging condition or where grain is built up on the side of the bin.
Provide workers with rescue equipment, such as winch systems specifically suited for rescue from the bin.
Station, an observer equipped to aid and perform rescue operations outside the bin.
Ensure that communications (visual, voice or signal line) are maintained between the observer and the workers who entered the bin.
Test the air within a bin for oxygen content and the presence of hazardous gases before entry.
Provide and continue ventilation until any unsafe atmospheric conditions are eliminated.
Issue a permit each time a worker enters a bin unless the employer is present during the entire entry operation. The key must certify that the above precautions have been implemented before workers enter the bin.
If toxicity or oxygen deficiency cannot be eliminated, workers must wear appropriate respirators.
Grain bin entry PPE
Grain bin rescue equipment is required by OSHA when entering a grain bin. What that means is that anyone entering a bin, at the very least, should have a rescue harness on.
The harness should be on correctly and fully fastened; take the extra time to put it on correctly and ensure it is not damaged. Ideally, that harness is tied to an anchor point on the bin.
Older bins may not have anchor points built into the bin design, but aftermarket bin anchor points can be installed, and even if they can't be installed in the perfect position, they are better than not being tied off.
"Wear a harness every time you go in a grain bin," says John Lee, director of Safety and Health at the Grain and Feed Association of Illinois. "Whether it's tied to a point or not. Because we had to rescue you, that's something they can hook on to."
A dust mask should also be worn whenever in a grain bin. Bins containing grain dust and mold spores will also be present if an employee enters because of out-of-condition grain.
"Corn and soybeans are all living organisms, and they want to grow," continues Lee. "Molds form in there, and those molds can make you sick. It's called Grain Fever, the technical name is Organic dust toxic syndrome, and it can make you sick. Flu-like symptoms, some people get so dehydrated that they need to be taken to the hospital."
Make sure you also have proper clothing on. Boots and pants are necessary, if an entrapment happens, thousands of pounds of grain will be pressing against the person entrapped proper clothing can protect against cuts, bruises and more serious injury.
If you find yourself needing to enter a grain bin, take the time to make sure you are properly prepared and equipped. A few extra minutes of preparation can be the difference between making out of the grain bin or not.