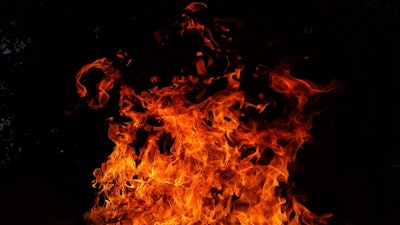 RonaldPlett | Pixabay.com
A fire was reported the evening of November 12 at the Farmers Elevator facility in Fergus Falls, Minnesota. The facility is located in the middle of town.
When emergency crews arrived at 6:30 p.m., the grain dryer, which was drying soybeans, was engulfed in flames. The fire was quickly heading toward the wooden elevator. Fire crews established a water supply from a hydrant and began exposure protection of the elevator.
Crews were able to clear the dryer of its burning contents by opening the bottom and middle sections of the dryer. Crews were on scene for five hours clearing the burnt debris from the grain dryer.
According to reports, at the beginning of the incident, an alert was sent to residences downwind of the fire to shelter indoors due to the smoke conditions. The request was lifted after two hours. The Otter Tail Valley Railroad also placed a hold on train traffic as fire crews were working near the rail line.
Crews from several area departments responded to the call. At the peak, there were 90 firefighters on scene.
No injuries were reported; a damage estimate is not yet available.