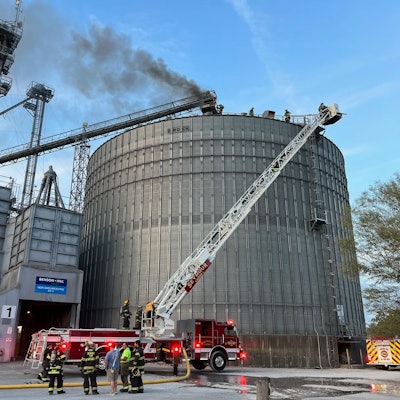 Hamilton Township Volunteer Fire Department, via Facebook
Nearly 40 firefighters from several departments spent three and a half hours on the scene of a fire the evening of September 20 at Benson Hill's grain facility near Cortland, Indiana.
Within several minutes of the initial dispatch Hamilton Township Fire Department arrived on scene and found a 120-foot-high conveyor system on fire. Due to the facility size and type of fire, several more departments were requested to assist, said a news release from Chief Cody Hercamp.
Upon making access to the system, heavy fire was noted within the system. Firefighters gained access to the grain bins and conveyor system and contained the fire to the conveyor system with no extension to the grain bins.
The facility is valued at approximately $45 million and initial damage estimates are $250,000, according to Benson Hill representatives.
There were no reports of injuries.