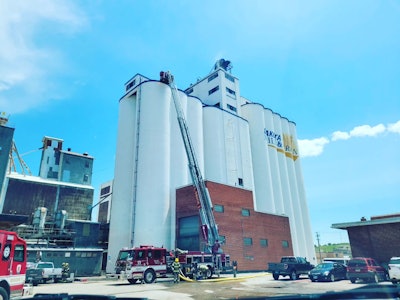 Courtesy of Rapid City Fire Department Facebook
Emergency crews were on scene for three hours for a structure fire at Dakota Mill & Grain in Rapid City, South Dakota, on July 6.
According to reports, staff had reported smoke coming from one of the conveyor belts. The fire was at the highest point of the grain mill, which meant gaining access from the roof.
Fire crews used aerial trucks to gain access to the silo, using the existing structure three stories above the main silo. The source was identified as a mechanic structure that had to be disassembled to get to the main seat of the fire.