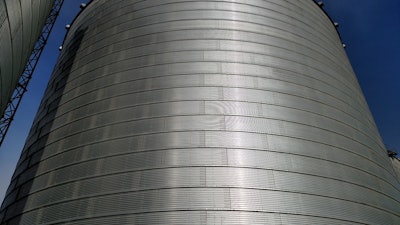 A recent report from the Conflict Observatory found that one out of every six -- or 15.73% of Ukrainian crop storage facilities has been damaged, destroyed or controlled by Russia and its aligned forces since the February 24 full-scale invasion began.
Analysts identified 75 facilities damaged from the 344 sites present in recently collected satellite imagery.
The total conflict-affected crop storage (including damaged and newly Russia-controlled) is approximately 14.57% of Ukraine's estimated 58 million metric tonnes.
The report notes that intentional destruction of such facilities may constitute a war crime and a violation of the 1977 Additional Protocol I to the Geneva Conventions of 1949.
On September 15, following the release of this independent assessment of the impact of Russia's war on grain storage sites in Ukraine, the U.S. Department of State called for further investigation through appropriate mechanisms.

Russia controls over 6 million tonnes of Ukraine crop storage capacity

The Conflict Observatory assessment determined that Russia and its aligned forces controlled approximately 6.24 million tonnes of Ukraine's crop storage capacity as of July 2022 regardless of damage.
This assessment was largely conducted in July and August 2022. Territorial gains made by Ukraine since September 1, 2022, are not reflected in the report.
Furthermore, 2.25 million damaged tonnes pertained to 48 damaged facilities within territory under Ukrainian control as of July 2022 and 0.82 million damaged tonnes pertain to 27 damaged facilities under Russian control as of the same date.
Over 3 MMT of grain storage capacity is destroyed, damaged
In both Ukraine-controlled and Russia-controlled territories, at least 3.07 million metric tonnes of storage capacity have been destroyed or visibly damaged since February 24.
These damaged facilities constitute at least 5.36% of Ukraine's pre-war crop storage capacity nationwide, a minimum extent of impact to Ukraine's crop storage capacity, says the report.
The assessment also concludes that at least 60 of the 75 facilities (80%) identified as damage-affected are found at port facilities or within less than one kilometer of a railroad. In some cases, certain facilities are located next to railroad tracks at port facilities.
Damage-affected facilities linked to transportation infrastructure
Further analysis is required to draw any definitive conclusions about why the overwhelming majority of damage-affected facilities identified by this assessment are co-located with critical transportation infrastructure. Regardless, the finding is significant notes the report.
Proximity to transportation infrastructure should be considered relevant to any future analysis of visibly damaged crop storage facilities attempting to a) differentiate between damage from indiscriminate or intentional targeting of these facilities; and b) attempting to determine whether strikes on these facilities are occurring as part of a larger command-directed campaign of attacks on crop storage facilities by Russia and its proxies.
Putin threatens to walk away from grain deal
The Wall Street Journal reported on Saturday that Russian President Vladimir Putin renewed his threats to sink an international agreement to unblock Ukraine's grain exports through the Black Sea, saying not enough grain was going to the world's poor.
The Journal notes Putin has made the false claim before, raising doubts about the long-term survival of the United Nations-brokered pact, agreed to earlier this year. Some 28% of the more than three million tons of grain shipped under the agreement has gone to lower income countries, including Egypt, India and Iran, among others.
The increased supplies have also helped bring down prices across the board, easing the pressure on some of the world's most vulnerable populations.

War is exacerbating a global food security crisis
According to the U.S. State Department, Russia has exacerbated a global food security crisis, contributed to significant spikes in the cost of wheat, and forced a scramble to keep hungry and vulnerable populations fed.
This summer, the United Nations and Turkiye mediated an agreement with Russia and Ukraine to allow safe grain exports from Ukraine's Black Sea ports.
Since August 1, that agreement has reduced global food prices and brought more than 2.7 million metric tons of grain to global markets.
"If agricultural infrastructure within Ukraine continues to be damaged in the war, this progress on global food security will be endangered," stated the U.S. State Department.