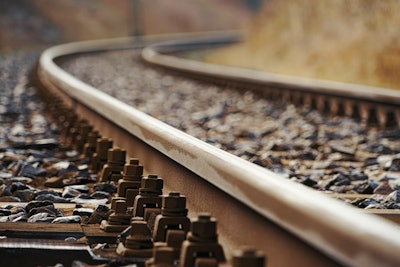 On Monday, the Biden administration urged railroads and unions to reach a deal to avoid a railroad work stoppage, saying it would pose "an unacceptable outcome" to the U.S. economy that could cost $2 billion a day.
Railroads, including Union Pacific, BNSF, CSX and Norfolk Southern, have until a minute after midnight on Friday, September 16, to reach tentative deals with hold out unions representing about 60,000 workers. Failing to do so opens the door to union strikes, employer lockouts and congressional intervention, reports Reuters.
A White House official told Reuters Biden has been in touch today with unions and companies to try to avert a strike, as have cabinet officials.
CNN also reports that Biden continues to receive regular updates on the high-stakes negotiations, including briefings on the matter Monday evening and Tuesday morning. Senior-level engagements were expected to continue Tuesday.
There are conversations with industry leaders and also "multiple interagency meetings" happening daily with the Departments of Transportation, Defense, Agriculture, Health and Human Services, and Energy, as well as the Federal Emergency Management Agency, the official told CNN with efforts toward "identifying the sectors and the goods that will be most immediately and significantly impacted by a rail stoppage."
NGFA urges railroads and labor unions to continue to work 'in good faith'
The National Grain and Feed Association (NGFA) urged leaders of railroads and rail labor unions to remain at the negotiating table and commit to reaching an agreement by September 16 to avoid a nationwide rail shutdown.

"A rail stoppage on September 16 would hit right as the fall harvest accelerates in many parts of the United States," said NGFA President and CEO Mike Seyfert in a September 12 letter.
"The economic damages across the food and agricultural supply chain would be swift and severe."

Ongoing rail issues for past three years

Railroads and rail labor have until reach to reach an agreement that would prevent a lockout or strike after the Presidential Emergency Board published a proposed settlement on Aug. 17.
Class I railroads announced late last week that they would begin curtailing shipments of hazardous materials today in anticipation of a possible strike.

Congress could be called upon to settle differences in the event of an impasse in negotiations, but NGFA urged the parties to avoid this outcome. The rail network has been experiencing significant service disruptions for nearly three years. Any additional disruption of rail service would have immediate impacts on the nation's supply chain, NGFA noted.

"Economic challenges to livestock and poultry producers this year due to rail service delays are well-documented, and a shutdown would quickly cause additional problems and force producers to make difficult decisions regarding the viability of their animals," Seyfert said, adding that processing and biofuels plants may have to scale back production and exporters may not be able to find viable transportation alternatives.

"NGFA urges all parties involved to continue good faith negotiations," he said. "No one wins if a shutdown occurs — the agricultural value chain and consumers who rely on it stand to lose the most."

NGFA and 30 other members of the Agricultural Transportation Working Group on September 8 asked Congress to prevent a rail stoppage "of any duration," noting that uninterrupted rail service is vital to the American agricultural economy.

Global impact of U.S. rail
A rail strike during America's grain crops harvest would exacerbate global food insecurity and impact the health and well-being of both U.S. and global populations. Critical agricultural inputs and significant quantities of agricultural products are transported by the U.S. rail network to domestic facilities and ports for export abroad.
Tens of millions of consumers around the world rely on U.S. rail for safe, abundant, affordable, and sustainably produced human and animal food, fiber, and agricultural goods. Reliable railroad freight transportation is essential to meeting those needs.
World leaders, already concerned about food shortages due to famine, drought and the invasion of Ukraine — which accounts for 10% of the world's wheat exports — fear a freight rail stoppage would contribute to further geopolitical instability in regions that experience famine.
"Congress must be willing to act to ensure our farmers and ranchers can continue to help feed the world," the Agricultural Transportation Working Group said in its letter. "The freight rail system already is significantly challenged and many rail customers are not receiving timely rail service. A complete stoppage of rail service, even for a single day, would escalate these challenges."
PEB recommendations
On August 16, the PEB was submitted to President Biden to help resolve the ongoing contract dispute between major railroads and unions, in which the two sides' original contract proposals differed by more than $9 billion. Under the Railway Labor Act, submission of the PEB requires a 30-day cooling off period, after which strikes and lockouts are allowed to take place if railroads and unions cannot agree.
After working with both sides, the PEB recommended a 24% compounded wage increase over five years, some retroactive. The wage increase was 7% higher than the carriers' offer and 7% below the unions' offer, and also included annual service-recognition bonuses.
Other recommendations included removing the cap on monthly employee healthcare contributions to equal 15% of the plans' overall cost of providing covered benefits, and jointly rebidding contracts to ensure cost competitiveness.
If these recommendations, or any others, are accepted prior to September 16, the agreement would be tentative until ratified by the affected membership of each rail union.
Following a tentative agreement, carriers and unions typically initiate an additional 60-90 day cooling-off period, during which a strike or lockout is not allowed until union members vote to accept or reject the tentative contract.