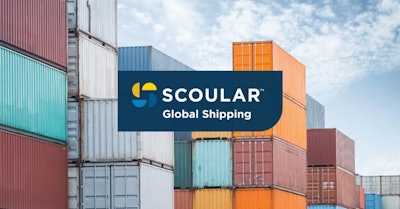 Scoular, a global logistics and supply chain company, today launched a new name for its freight forwarding business: Scoular Global Shipping.
Scoular has operated a freight forwarding business, previously known as TSC Container Freight, for over two decades.
Aligns business closer to brand
"Scoular's shipping business has long handled ocean freight for customers worldwide, coordinating all of the logistics required to move customers' products to destinations around the globe," said Dave Briggs, General Manager for Scoular Global Shipping. "The Scoular Global Shipping name brings the business more visibly under Scoular and its global supply chain capabilities, financial strength and 130-year history."
Scoular Global Shipping is a Non-Vessel Operating Common Carrier (NVOCC) and freight forwarder that manages risk for customers in the ocean container supply chain.
Full-service shipper
There are thousands of freight forwarders, and many are smaller operators with limited capabilities. A large, full-service NVOCC, Scoular Global Shipping:
Partners with all major ocean carriers and has access to the worldwide container network.
Offers a full range of services including freight forwarding, transloading/cross docking, domestic transport, and marine cargo insurance.
Offers competitive rates due to strong relationships with carriers and scale.
Brings Scoular's global logistics and supply chain expertise.
Carries the backing of Scoular's size and financial stability, with Scoular having $9 billion in sales, over 1,000 employees and ranking as the 68th largest private company in the U.S.
For more information on Scoular Global Shipping, click here.