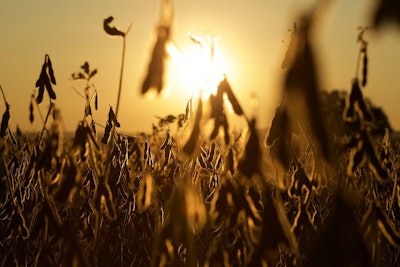 New high output soybean crush facilities are springing up across the Midwest over the next few years, with many large agribusinesses like Cargill and ADM currently building multiple facilities.
In Feed & Grain's most recent look at grain handling construction, "Grain Handling Construction Projects Across the Nation," 12 of the 21-grain handling and processing projects were soybean crush facilities.

Some land owners are even putting in extra effort to attract soybean crush facilities, like the North Platte Chamber and Development Corp., which conducted a feasibility study to attract a soybean crush facility.
Gordon Denny, general manager of Gordon Denny, a consulting corporation specializing in the production, marketing and processing aspects of the soybean and grain industries, estimates that the companies are investing $6 billion over the next three to four years.

"Soybean processing facilities cost between $350 to $450 million," explained Denny. "The demand is primarily coming from the renewable diesel and the sustainable aviation fuel trends that initiated in California and have been adopted by other states."
High-quality jobs for rural communities
A new grain elevator or a feed manufacturing facility might provide a dozen new jobs to a local community, as long as they aren't simply replacing an old location. Soybean crush plants, on the other hand, will more than likely be a completely new type of business in a community. They also employ considerably more people. On average more than 50 new jobs are created when a modern soybean crush plant is built. This makes them very attractive to rural communities.
In an ADM and Marathon Petroleum Corp. joint press release about the new joint venture Green Bison Soy Processing, North Dakota Gov. Doug Burgum said, "Green Bison will add value and expand the market for one of our farmers' most important crops, while also creating 75 direct jobs and diversifying our economy to support our communities, our citizens and the entire state."
Dwaine Heinrich, the mayor of Jamestown, ND, where the Green Bison facility is being built, said, this facility will benefit the entire state.
"The joining of two of the most important components of North Dakota's economy – agriculture and energy – is made possible by a willingness to work together to achieve goals that will, in the end, benefit the city of Jamestown, Stutsman County and the entire state of North Dakota," said Heinrich.
High demand from producers
Soybean producers are excited to have another buyer for their soybeans, especially such a reliable buyer.
"Soybean processors operate typically 24 hours a day, seven days a week, times 350 days a year," explained Denny. "So the demand is very steady. It's not like the export demand that can fluctuate seasonally and often depends on what's happening in South America. Domestic processors provide a steady, regular source of demand."
Most of the new facilities being built are filling what Denny calls processing deserts, which have not had the crushing capacity needed in certain areas of the country. Companies are quick to tote that benefit to producers.

"Farmers are at the core of our business. This investment will help us provide them a better experience when they choose to sell their crops to us," said Don Camden, commercial leader for the eastern region of Cargill's agricultural supply chain business in North America. "This also demonstrates our commitment to invest in and grow with the Sidney community."
Extra soybean meal is an added benefit
The growth in demand for biodiesel and aviation fuel is driving the demand for soybean crush facilities, but with the estimated 28% increase in soybean crush capacity over the next 2-3 years, it will also produce more soybean meal. If properly integrated into the animal feed supply chain, Denny sees the potential to lower protein cost for consumers.

"I think protein in almost every form, and that includes chicken, turkey, pigs and even beef and aquaculture, will be subsidized by the country's desire for sustainable aviation fuel," Denny said. "Therefore, I think this rapid expansion will help to feed humans."
But to get the soybean meal to market, railroads will have to invest in infrastructure around the new soybean crush facilities.
"Transportation is going to be a huge issue in the future, particularly on railways," explains Denny. "We've lost crushed soybean meal this year because the railroads could not service the existing plant capacities. So we're going to need new rail cars to be built, we're going to need more railroads with engines and crews to provide the service for the 28% increase in crush capacity and significance."