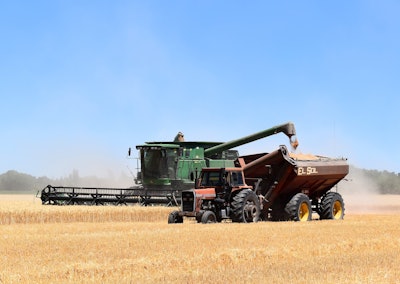 The North American grain elevator and processing industry is facing another challenging year in 2023. Labor shortages, technology shifts, grain transportation issues, geopolitical crises and upcoming regulations all have impacts on the current state of the industry.
Recently, Feed & Grain asked the Grain Elevator and Processing Society (GEAPS), National Grain and Feed Association (NGFA) and the U.S. Grains Council (USGC) what they felt would be some challenges the industry would be facing in the current environment. You can find that article here.
But we were also curious what challenges producers are facing in 2023 and what kind of symmetry that might bring to the grain elevator and processing industry.
Here, in a roundtable format, is what they had to say.
Q: What are the top issues grain producers will have on their radar in 2023?
A: Krista Swanson, lead economist, National Corn Growers Association (NCGA):
Lower incomes, tighter margins: After two years of record high income in 2021 and 2022, USDA projects U.S. net farm income to drop by 15.9% in 2023. For most grain and oilseed crops, commodity prices are expected to drop more than production costs. USDA projects the price of corn to decline 15% per bushel from 2022 to 2023, while cost of production only drops 6%. Even with some relief from 2022, fertilizer prices remain high and a significant part of the cost of production for corn and other grain crops. Farmers will be challenged with managing tighter margins as production costs remain elevated relative to commodity prices.
Inflation and interest rates: In an effort to combat the highest inflation rates in four decades, the Federal Reserve raised short-term interest rates by 450 basis points in less than a year. While inflation has declined from the 2022 high point of 9.1% to 6.5% in January, it remains well above the Fed's target rate of 2%. Although the rate hike cycle appears to be slowing, the Fed indicates a decline in rates isn't likely in 2023. Higher interest rate levels mean higher operating costs and high costs of borrowing for machinery and land purchases.
Geopolitical relations: The war between Russia and Ukraine continues, and, while the initial disruptions in the world market of agriculture grains have settled, this continues to add uncertainty to wheat, fertilizers, and related commodity markets. China has been a valuable export destination for agriculture grains in recent years but is ramping up corn imports from Brazil after their first ever purchase a few months ago, a signal that China is acting on its goal of minimizing dependence on imports of U.S. agriculture products. Aside from these examples, there are many other geopolitical dynamics that impact grain producers.
A: Chandler Goule, CEO, National Association of Wheat Growers (NAWG):
2023 Farm Bill reauthorization: The 2018 Farm Bill passed with historic bipartisan support in both the House and Senate, and farm program review is underway, and reauthorization or extension is on the agenda for Congress in 2023. Last summer, NAWG put forward its initial 2023 Farm Bill priorities, which includes protecting and enhancing the effectiveness of crop insurance as its number one priority while also working to improve the effectiveness of the Title I programs. Crop insurance is an incredibly important tool to help farmers mitigate their risk. It is essential that we do not limit the effectiveness and accessibility of crop insurance as it is the primary tool that helps avert cropping disasters. Meanwhile, Congress should look at ways to enhance crop insurance, both in terms of effectiveness and costs for farmers. The cost of purchasing crop insurance has increased in recent years, and it would be helpful to allow higher coverage levels at more affordable premiums. Congress should also look at tweaks to existing programs to be more effective. Additionally, the current $5.50 reference price is not an adequate safety net for wheat production. It neither covers the cost of production nor does it take input costs into account. The reference price should be increased to reflect the current cost of production more accurately.
Disaster aid implementation: In December 2023, Congress appropriated $3.7 billion for agricultural disaster assistance for calendar year 2022. Past disaster aid programs have presented some challenges for wheat growers. However, NAWG will continue to work with USDA's Farm Service Agency as they begin to roll out this assistance for losses experienced in 2022. Additionally, establishing a permanent disaster aid program could be on the table as Congress looks at reauthorizing the Farm Bill later this year. From our perspective, NAWG has been focused on crop insurance as our number one priority, but we also need to make sure that if there is a disaster program for row crops, that wheat is included and that it works for wheat farmers. While creating a permanent disaster aid program is not a current priority for NAWG, we believe that any disaster aid program should focus on enhancing the current safety net and should not undermine it in any way.
Transportation: U.S. wheat growers rely on multiple methods to transport their harvest from their farms to domestic or international consumers. However, wheat farmers are uniquely reliant on rail due to the large distances between production and consumption. Rail has moved over 1 billion bushels of wheat over the last five years, with one car containing enough wheat to make 250,000 loaves of bread. This year, NAWG has been very involved in numerous items before the Surface Transportation Board (STB). Since the pandemic, Class I Rail has seen a significant drop in the quality and quantity of the service they are providing. This led to a hearing before the STB discussing the service challenges facing the agriculture industry. NAWG joined a letter with U.S. Wheat Associates and the North American Millers Association discussing the challenges facing wheat and flour in particular. This led to the STB requiring Class 1 rail carriers to submit weekly metrics on rail service performance. These reports allow both the STB and the public to have greater visibility into the performance of the rail industry.
A: Jack Cornell, board director of Sustainable Supply, United Soybean Board (USB):
Inputs and supply chains: Inputs are a major concern for the 2023 growing season. USB directors realize that reliance on traditional fertilizers might change over time, thus they have been funding research that could provide bio-based fertilizers for farmers to maintain production and profitability. These bio-based fertilizers are geared toward enhancing soy's nitrogen fixation rates and aid in making phosphorous more plant available. In 2023, farmers may once again show their versatility and may have to use an input that they have not traditionally used as we deal with supply issues.
Climate-Smart Commodities: Another major concern is how to best navigate all the new opportunities in the Climate-Smart Commodities space. There is significant funding for farmers to implement cover crops, reduce tillage and add other conservation activities to their operation. USB is partnering with National Corn Growers Association and National Pork Board to develop the Farmers for Soil Health program that is farmer centric and an easy way for farmers to transition to this space. The Farmers for Soil Health was awarded a $95 million grant through USDA's Partnerships for Climate-Smart Commodities. Farmers for Soil Health provides farmers funding and technical assistance from state-level programs in adopting new practices and also creating a marketplace that could result in more on-farm financial and soil resilience. With the guidance from checkoff farmer-leaders, we hope to continue to develop a program that will lean more toward enhancing on-farm finances and create less headaches.
---
Q: How will the growing emphasis on sustainability of the agricultural supply chain [by downstream customers] impact grain producers in 2023?
A: Goule, NAWG: The Biden administration has named climate and sustainability a priority. Many wheat growers have already implemented several environmentally friendly practices that positively impact the environment and have increased resource-efficient practices in land, water and energy use.
Wheat producers have a high rate of adoption of reduced tillage, with 67 percent of wheat growers adopting conservation tillage. Wheat has several environmental benefits, including protecting soil from erosion, improving soil quality, reducing weed pressure, and protecting soil over winter. Regional climate differences are a significant factor in production and outputs for farmers. Therefore, climate will always be a major concern.
Specifically, voluntary carbon markets have been on the minds of many growers. NAWG testified before the House Agriculture Committee on this topic in September 2021. NAWG believes that carbon policies and programs should recognize the environmental benefits of agricultural methods. NAWG supports voluntary, market-based programs and policies that provide economic opportunities for farmers and that recognize the achievements of growers in protecting and restoring the environment by rewarding early adopters and adding new practices.
Programs should be science-based, flexible and inclusive to include allowances for regional, geographic or preferential differences in farming practices. We know very clearly that one specific approach won't work for all the producers across the U.S., so flexibility in addressing the diverse cropping systems will be essential.
A: John Jansen, board vice president of Strategic Partnerships, USB: Based on the interviews we've conducted with end-users there are two distinct areas impacting grain producers in 2023. The first is confirmation that manufacturers have shifted their focus to Scope 3 gaps, addressing indirect company greenhouse gas emissions. They've had enough time to assess their ability to close sustainability gaps internally and are now focusing on how their supply chain can support their greenhouse gas milestones. For many industries closing those gaps will take a partnership approach or alterations in the existing supply chain.
Secondly, manufacturers are looking for supply chain transparency driven by consumers' interest in better understanding where and how their food is produced. This has led to a focus on additionality which is driving the MOU Alliance Farmers for Soil Health (FSH) and the Climate-Smart Commodities program from USDA. The FSH grant supports the creation of a marketing platform connecting farmers directly with end users for the purpose of creating claim support and further differentiating products. Linking farmers and end users directly leads to a circular solution and even stronger farm resilience.
---
Q: What do you predict will be the greatest challenge in the next decade for grain producers?
A: Swanson, NCGA: This answer addresses both sustainability and the greatest challenge over the next decade.
Although there is growing emphasis on sustainability in production of agriculture products, it is important to recognize that this is not a new initiative at the farm level. Dating back to 1960, inputs used to grow a crop have stayed about the same over time. But U.S. farmers are now producing twice as much crop output as compared to 1960, while using almost the same level of inputs (ERS). For decades farmers have shown their dedication to producing more without using more.
Growth in world population continues. Rising incomes boost demand for higher value food. And we still have limited resources. Now the focus turns to the challenge of continuing to produce more, while using less.
Farmers have long practiced sustainability. Farmers want to preserve valuable resources like land, fertility, and water on their farms, while also adopting new practices that achieve those goals. But often those practices come with a price tag that doesn't have measurable benefits for the farm. That's a problem in a year like 2023, when grain farm margins are expected to be very tight. Adding to the problem, nearly 40% of U.S. farmland is rented or leased as opposed to being owned by the farmer (2017 Census of Agriculture Table 11). In this case the farmer bears the cost of a practice while long-term benefits accrue to the unowned land and society. What could be the biggest challenge of the next decade is regulations or requirements for sustainability that is beyond what makes economic sense for farmers.
On the other hand, agriculture as a carbon sink provides opportunities for farmers who make the investments in next step sustainability practices. There are already groups of companies offering payments to farmers to engage in practices that sequester carbon. There is still a need for marketplace framework that provides greater consistency and transparency that can result in a fair market price for farmers, but the growing emphasis on sustainability equates to potential for farmers in this space.
A: Goule, NAWG: The greatest challenge will be the one that we all have to come to grips with in an age of uncertainty. How do we do more with less? The COVID-19 pandemic showed us that our supply chains are fragile. The war in Ukraine showed us that food shortages are not a bygone relic of a brutal past. Meanwhile, natural disasters have caused numerous shortcomings in food production while jeopardizing our energy systems.
Farmers are trying to figure out how to make more food while being asked to use less. Less land, less fuel, fewer inputs, and more, not only in the U.S. but globally. How farmers adapt to changing climate conditions, politics, and the world will be a significant challenge over the coming generations. For wheat specifically, how does wheat adapt to fewer acres as other crops engage more in value-added industries like renewable fuels? Are there alternative uses for wheat that can improve farmers' bottom line and encourage them to plant more wheat? What impact will a prolonged or even expanded war in Europe have on international markets? What happens if that war spills over into the world's shipping lanes?
As we move into a world of feeding almost 9 billion people by 2050, doing more with less will be our greatest challenge and, ultimately, our shining achievement.
A: Cornell, USB: Farmers over the next decade really need to keep an open mind and look for opportunities to enhance their farm profitability.
One of those opportunities is through the newly forming sustainability marketplaces. These sustainability marketplaces could aid farmers profitability while providing technical assistance and funds to help with operational transitions. This in turn will lead to more soil resilience that can handle extreme weather events that are becoming ever more present. As a relatively newly forming area, farmers will need to seek resources to make sure they find the right program that works for their operation.
I recommend relying on trusted resources to navigate. A lot of those resources can be leveraged through your national or state commodity organizations. Another area to be aware of is communication and engagement. As society continues to move away from rural settings and farming backgrounds become rarer, farmers need to become more active in sharing their stories. This is important to make sure people know where their food comes from, and the things farmers are doing every day as they actively work as stewards of the land.