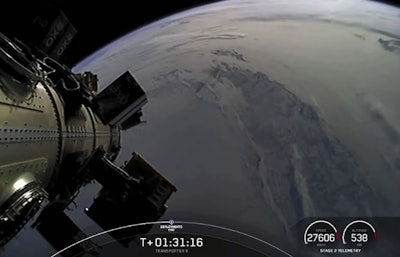 The first imaging satellite built specifically to provide the agriculture industry with high-quality imaging data was launched as part of the Transporter-6 mission.
EOS SAT-1, the first imaging satellite to be built by Dragonfly Aerospace, was successfully delivered into a low Earth orbit by SpaceX's Falcon 9 rocket from the Cape Canaveral Space Force Station in Florida.
EOS SAT is a constellation consisting of seven small optical satellites created by EOS Data Analytics (EOSDA), a global provider of AI-powered satellite imagery analytics, to support the implementation of sustainable agriculture methods and environmental monitoring of forestlands by providing high-quality data for analysis.
"This launch brings new game-changing possibilities of satellite technologies to the agricultural industry," said Artiom Anisimov, CEO of EOS Data Analytics.
All seven satellites are being built by Dragonfly Aerospace. After reaching full operation by 2025, EOS SAT will cover up to 100% of countries with the largest areas of farmlands and forestlands, amounting to 98.5% of these lands across the globe.
Designed to monitor crops and improve the environment
Images obtained from Dragonfly's EOS SAT-1 will deliver valuable information for harvest monitoring, application mapping, and seasonal planning and assessments that analyze information such as soil moisture, yield prediction and biomass levels. This data will support growers with reducing carbon dioxide emissions and help them to develop sustainable agricultural methods.
The systems will also assist agribusinesses in monitoring crop growth and detecting heat, cold, water stress, weed spread, pest attacks and other issues threatening crops.
Producers will be able to optimize their input use based on productivity and vegetation maps provided by the constellation, test the effectiveness of new crop protection products or fertilizers, avoid unnecessary field inspections and thus reduce fuel use, manage irrigation, estimate yields and more.
EOS SAT-1 monitors up to one million square kilometers daily using 11 agriculture-related bands. Yet even with only one such satellite in the sky, EOSDA customers unlock the potential to implement precision agriculture practices and thus reduce CO2 emissions, cut energy consumption, decrease water usage and more.

All this information will have important environmental benefits for the planet and help prevent natural habitats from being diminished for crop growth and maintain biodiversity.
"We're excited to be the technology partner for EOS SAT, the first commercial constellation tailored specifically to agriculture needs," said Bryan Dean, CEO and co-founder of Dragonfly Aerospace. "It is great to have a customer with such a clear focus on addressing issues that are key to the sustainability of life on the planet. Having an agriculture-focused set of sensors, EOS SAT will collect the data that can actually help decision makers take care of the Earth and maintain its biodiversity while providing food security for its many people."
Satellites will monitor up to 12 million square kilometers on a daily basis
By 2025, the constellation will monitor up to 12 million square kilometers on a daily basis. Its satellite cameras will generate panchromatic and multispectral imagery using 13 agriculture-related bands to provide specific information about the required aspects of the land in question.

"EOSDA will work with proprietary datasets to provide even deeper and more accurate insights for its customers and partners," said Anisimov with EOSDA.
The EOS SAT-1 satellite separated from the launch vehicle as planned and began transmitting a signal to the mission control center on Earth.
At the moment, the process of satellite calibration and testing of all onboard units has begun.
EOS SAT-2 and the following satellites are expected to get into orbit within 2023-2024. The full operational capability of the EOS SAT constellation is scheduled to be achieved in 2025.