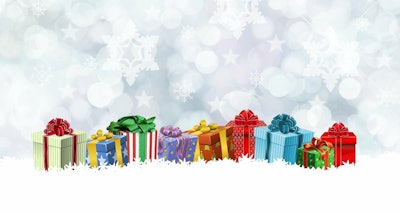 The holiday season is in full swing and if you're stumped as to what get your friends and loved ones, why not give them something with a little feed- and grain-themed spirit? With a range of price points and options for every age group, you can put a smile on everyone's face on your gift-gifting list this year.
If you need something that's more poultry-focused, check out the 2022 poultry industry holiday gift guide at WATTPoultry.com.
Ear of corn Christmas ornament
Add some sparkle to your holiday tree with an ear of corn ornament from Old World Christmas. Each glass ornament is mouth-blown into finely carved molds then hand-painted and -glittered to a fine finish. Price: $9.99
'Got soybeans?' coffee mug

The Funny Farm offers a collection of joke mugs to choose from or customize your own. Latte mugs, paper cups, porcelain pitchers and teapots are also available. Prices start at $11.85
Organic heirloom whole wheat flour gift basket
This gift basket from Belle Ancient Grains features fresh-milled organic Red Fife (hard red), Clark's Cream (hard white) and Spelt flour in one-pound bags perfect for baking Christmas cookies and treats. Price: $48.95
Vintage farm feed sack and feed bag home decor
Made of unbleached cotton fabric, these vintage feed sacks from Acorn And Alice originally held 100 pounds of All Mash Starter & Grower from the Mudis Feed Mills of Emigsville, Pennsylvania, and Nashville, Pennsylvania, and are a great addition to any home decor when hung on the wall or draped over a chair back, cabinet door or bench. Price: $54.95
Greenhouse and garden set
For children who love nature and playing in the garden, this greenhouse and garden set is ideal for encouraging green fingers. A traditional plywood greenhouse with base has an opening door, and two removable roof panels. It can be filled with two seed trays, a planting bench, four potted plants and three tomato shrubs. Price: $99.99
Ear of corn knee socks
Rock 'Em Socks offers customized ear of corn socks that definitely have the juice. Price: $14.99
Silver wheat necklace for her
This handmade wheat-themed necklace from TEOMANDESIGN is 925k sterling silver and gold filled with a matte texture. Price: $49

'I Love Soybeans' necktie
Upgrade your wardrobe with a custom tie from I Love Gift Ware, Design one-of-a-kind ties to match any suit, dress shirt and occasion. Price: $24.79
'Being a nutritionist is easy' t-shirt
Perfect for the nutritionists at your feed mill, this funny t-shirt is designed and sold by KMCollectible. Price: $19.83
Heritage poultry breed art
Purchase a rare and beautiful piece of history from the WATT Global Media heritage poultry breed art collection. These original paintings can be printed in high resolution detail, certain to make any poultry lover a perfect gift as an addition to the home or office and ready to hang. Prices start at $49.95

Disclaimer: The products in this gift guide were chosen at the discretion of the Feed & Grain team, and no additional compensation was received. Any product claim, statistic, quote or other representation about a product or service should be verified with the manufacturer, provider or party in question.