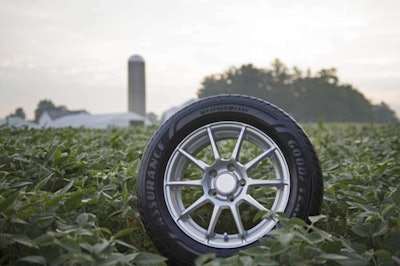 On-farm soy-based products are a success
A recent Agri-Pulse webinar, "Why biobased products are a hot topic for today," sponsored by the United Soybean Board (USB) and the American Soybean Association (ASA), highlighted biobased products and how far they've advanced for both on-farm and in-home use.
Belinda Burrier, a farmer in her eighth year serving as a farmer-leader on the USB, noted that USB has invested in research that has contributed to the manufacture of many U.S. soy products available to consumers as well as big cities and rural communities.
"We hosted fleet managers and Washington, D.C. delegates on the farm recently," said Burrier. "We use soy biodiesel in all our diesel equipment. We also have a soy-based concrete sealer under the grain system."
Burrier noted the biodiesel helps to reduce greenhouse gas emissions emitted from the equipment and helps the equipment burn with better lubricity to the engine creating fewer smoke emissions.
Burrier noted her farm also recently used a soy-based shield on a concrete pour to help reduce cracks in the concrete.
"The soy-based shield preserves your concrete," said Burrier. "It can be used for sidewalks, roads, pavilions and other applications."

Henry Ford's soybean car
Karen Edwards is founder of KCE Public Affairs Associates, which has served the USB and ASA for two decades.
The KCE team focuses on driving demand and developing strategic partnerships for soy industrial uses, often connecting groups such as the American Lung Association and major cities' sustainability initiatives to the work of U.S. soybean growers.
Edwards noted that while biobased products are a very hot topic today with the new White House executive order coming out at the 20th anniversary of the BioPreferred Program, the U.S. has long history of bio manufacturing that extends all the way back to Henry Ford and a collaboration with Dr. George Washington Carver.
"Henry Ford believed that he could someday grow a car," explained Edwards. "Ford paid many farmers to grow soybeans to do this. There is still a lab today at Deerfield village that showcases his soy innovation work."
According to thehenryford.org, in the early 1940s, Ford experimented with making plastic parts for automobiles. These experiments resulted in what was described as a "plastic car made from soybeans."
The frame, made of tubular steel, had 14 plastic panels attached to it. The car weighed 2,000 pounds – 1,000 pounds lighter than a steel car.
The exact ingredients of the plastic panels are unknown because no record of the formula exists today. One article claims that they were made from a chemical formula that, among many other ingredients, included soybeans, wheat, hemp, flax and ramie. The man who was instrumental in creating the car, Lowell E. Overly, says it was "soybean fiber in a phenolic resin with formaldehyde used in the impregnation."
USB also collaborated with Ford back in the day, and as a result, Ford vehicles made in North America today allow you to sit on soy seat cushions. The headliners, gaskets and more are soy based, said Edwards.
"There's a long history of soy products in the U.S., but it's important to note that the future is bright," she said.
Edwards noted an economic report from the USDA Rural Development Program in 2021 that found 4.6 million jobs in biobased manufacturing currently with the industry adding $470 billion to the economy.
"It's very exciting for U.S. soy to be part of that," she said.
Other products using soy
There are too many to list here, but below are a few examples of soy-based products being used in the U.S.:
Colorbiotics: USB and Iowa Soybean Association have invested in this technology developed at Iowa State University and manufactured by Colorbiotics. These paving and roof protectant products made using a biopolymer created from soy oil, include asphalt hot mix applications, topical spray applied applications and a roof shingle maintenance products.
PoreShield: The Indiana Soybean Alliance and Purdue University developed this product because the Indiana Department of Transportation said it needed concrete road assets to last longer. PoreShield is designed to extend the life of concrete highways by filling in those gaps with a soy biobased material. Washington, D.C. and New York are trying the product, and farmers are using it around grain legs and in hog barns.
SYNLawn: This company's products are used for athletics, track and field, artificial green walls, bocce ball courts, sport tile courts, poured-in-place rubber playgrounds and more. Made with a soy-based backing called EnviroLoc, the products use soy-based polyol technology developed with support from the soybean checkoff. Based on UL third-party verification, soybean oil displaces 60% of the petroleum-based polyurethane in common artificial grass products.
Goodyear Tires: The company has proclaimed a multi-decade commitment to source sustainably produced U.S. soybean oil, phasing out petroleum-derived oils from its products by 2040. Several municipalities, including Washington, D.C., New York City, and Madison, WI, have their fleets equipped with the soy-based tires.
Once upon a time, not too long ago, Henry Ford envisioned being able to grow a car made from soybeans.
It might seem a bit wacky to imagine, but he wasn't too far off the mark. There are parts in today's automobiles that are biobased. But we'll get to that later.
American consumers are looking for more environmentally friendly and sustainable products – and the U.S. soybean industry is ready with solutions.
Roads, buildings and fleets are switching to soy-biobased products. Even Goodyear tires now roll with soy.
Today, manufacturers of both industrial and consumer products are using more soybean oil and meal to replace petroleum and other volatile or hazardous ingredients. Which is great news for our industry, but why all the emphasis on soy-based products?
Biopreferred Program pushes for more innovations
On September 12, a new White House Executive Order issued by President Biden asked for more biobased products. The administration said it will also announce a wide range of new investments and resources that will allow the U.S. to harness the full potential of biotechnology and biomanufacturing.
First introduced in the 2002 Farm Bill, the Biopreferred Program was designed to increase development, purchase and use of biobased products to reduce the U.S.'s reliance on petroleum, increase the use of renewable agricultural resources, and contribute to reducing adverse environmental and health impacts.
Feed & Grain Editor's Poll