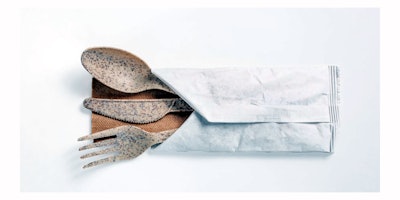 PlantSwitch
Single-use plastics are one of the biggest environmental threats of our time. They can take up to a 1,000 years to break down, overwhelming landfills and polluting the Earth.
A new company, PlantSwitch, aims to tackle that problem. Founded by Dillon Baxter, 26, and Maxime Blandin, 29, PlantSwitch's mission is to replace all petroleum-based plastic with plants. Its proprietary technology upcycles agricultural residues into a plant-based resin that can be used to make nearly all types of plastic products.
"All our products are compostable — meaning, you can discard them in your backyard compost and they'll go away in just a few months," Baxter said. "They're zero waste and made from an upcycled feedstock — meaning, you're also giving a valuable second life to something that right now doesn't have much of a use."
Circular process creates compostable plastic pellets
PlantSwitch's circular process starts at the farm and ends at the farm.
"We turn agricultural residues into compostable plastic pellets, our manufacturing partners use those pellets to make compostable products, then that product is used and disposed into compost that can go back to the farmer to grow more materials," said Baxter.
The company's plant-based plastic starts with agriculture byproduct, which typically goes unused. Baxter says over 100 million metric tons of that waste is produced every year.
PlantSwitch uses leftovers of major food production, such as rice hulls, wheat straw, hemp, jute, flax and agave fibers, corn stover and more. The company sources its raw material from agricultural producers, processors and farmers.
PlantSwitch notes on its website that by upcycling these byproducts, added value is given to them while solving a waste problem for agricultural producers. In addition, by upcycling agricultural waste streams, raw material costs are minimal, enabling the company to be the lowest cost plastic alternative on the market.
"Most agricultural byproducts are likely usable if they have a good amount of cellulose," said Baxter. "These leftovers currently have little to no value, so our process gives them a very important second life."
Producing plant-based plastics
Using plants to make plastics isn't a new concept. After all, back in the 1940s, Henry Ford once made an entire car out of soybeans, including its plastic parts.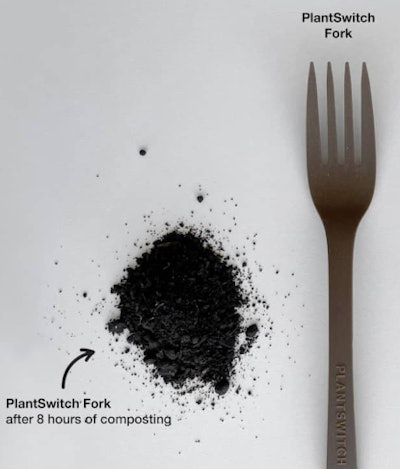 Baxter noted previously, the biggest barrier to bioplastics adoption has been corporate resistance to investing in new machinery to process this novel form of plant-based plastic.
Bioplastic alternatives have attempted to replace petroleum-based plastic in the past with little success due to price discrepancies and failure to effectively mimic the feel and flexibility of plastic, said Baxter.
PlantSwitch's pellets can be a drop-in replacement for plastic and can be used in conventional plastic-manufacturing machinery without any major modification. The company said PlantSwitch bioplastic pellets are the first bioplastic that is compatible with current plastic processing machinery.
With the company's newly launched U.S.-based manufacturing facility in Sanford, North Carolina, PlantSwitch now has the infrastructure in place to manufacture more than 50 million pounds annually of its bioplastic material.
Companies making the switch to bioplastics
Spanning across the fast food, pharmacy and cosmetics industries, PlantSwitch wants to wean society off its reliance of petroleum-based products that do lasting damage to the environment, noted its founders.
Sysco and US Foods have converted to PlantSwitch for their plastic needs, and the company is currently in negotiations to convert major international fast food chains, cosmetics brands and national pharmacy chains over to PlantSwitch bioplastics in 2024.
"For a truly sustainable material, it should be able to biodegrade on its own, leaving behind no toxic chemicals or microplastics. PlantSwitch meets these criteria," said Baxter.
In a countertop home composting bin, PlantSwitch single-use bioplastic items break down completely in eight hours. It's also the only bioplastic ever brought to market that is easily compostable in a home composting bin, and doesn't need to be placed in an industrial composting bin, said Baxter.
The company also received a $5 million grant, as part of the USDA's Climate-Smart Commodities initiative, which will calculate the impact of its entire supply chain — including carbon impact, end-of-life scenarios, compostability, toxicity and microplastic production.
"Our goal is to turn one billion pounds of plants into our bioplastic material over the next decade," said Baxter.