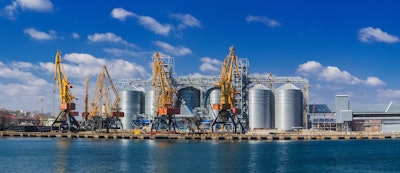 pafnuti | BIGSTOCK.com
After pulling itself from the Black Sea Grain Initiative on July 17, Russia is continuing its attack on Ukrainian's grain infrastructure. According to reports, on Monday it destroyed three grain warehouses in a drone attack on the Danube River, targeting a vital export route.
Last week, Russia struck Ukraine's ports in Odesa, which is the heart of Ukraine's agricultural export region, several days in a row. Ukraine's Agriculture Minister Mykola Solsky said a "considerable" amount of grain export infrastructure at Chornomorsk port in Ukraine's Odesa region had been damaged in the Russian airstrike attacks. Officials claim 60,000 tonnes of grain have been destroyed.
The alternative export route via the Danube River near Romania that Russia attacked on Monday was handling the main flow of food exports from Ukraine to world markets.
Since Russia's full-scale invasion in February 2022, Ukraine had expanded grain exports overland via the European Union (EU) to about 1 million tons a month, with larger volumes being exported from Romanian ports and along the Danube. Export volumes through the Danube, which tend to be more expensive logistically, would be lower than those by sea.
Destabilizing global food security
Last week, Mykhailo Podolyak, an adviser to Ukrainian President Volodymyr Zelenskiy, said the attacks on Odesa are part of a concerted Russian effort to prevent Ukrainian grain reaching world markets.
Putin said July 19 that Russia could return to the deal if its conditions are met. Many, including NATO's Secretary-General Jens Stoltenberg and Ukraine's President Volodymyr Zelenskyy, have said Putin's stance is an attempt to weaponize food and will degrade global food security.
Ukraine, along with Russia, is a major supplier of wheat, barley and vegetable oil to developing nations. Ukraine has shipped 32.9 million metric tons of grain to the world and supplied 80% of the World Food Program's wheat for humanitarian aid so far this year.
Russia wants "control of a huge part of the world's food security system"
The latest wave of attacks could put a serious dent in the amount of grain exports from Ukraine, said Olya Korbut, democracy fellow, Center for European Policy Analysis (CEPA).
"A possible significant decrease of the export of Ukrainian grain due to Russia's blackmail in the Black Sea will lead to a change in the grain market in the world in general," said Krobut. "Russia seeks to replace Ukraine in the top five world grain exporters. If it succeeds, Russia will get control on a huge part of the world's food security system, and therefore a new tool of blackmail."
The situation will be changing depending on the needs of Russia to negotiate its certain political and economic pros, said Korbut.
"The highest risk remains the security situation in the region, when Russia is shelling Ukrainian sea port infrastructure and openly threatening all participants of the grain corridor," she explained.
More than 70% of the vessels involved in the functioning of the grain corridor belong to Türkiye and Greece, members of NATO. So, Russia threatens a direct confrontation with NATO, said Korbut.
"There should be a serious and strong response by NATO in the form of international security guarantees for the grain corridor, the convoying of grain carriers along the export routes, and the deployment of the Black Sea demining program," she said. "After all, free-floating mines pose a danger to any commercial activity in the Black Sea."
Ukraine wants to keep exporting its grain
After the collapse of the Black Sea grain deal, Ukraine sent a letter to the UN International Maritime Organization establishing its own temporary shipping corridor, saying it would "provide guarantees of compensation for damage," reported the AP.
But Russia warned this week that ships sailing the Black Sea would assume to be carrying weapons to Ukraine. In a seeming tit-for-tat move, Ukraine said vessels heading to Russian Black Sea ports would be considered "carrying military cargo with all the associated risks."
"Ukraine gave a mirror response to Russia's threats to fire on grain carriers," said Korbut. "Western countries should stand shoulder to shoulder with Ukraine in this matter. The food crisis, which can be provoked by such actions of Russia, will cause a new large-scale wave of refugees to the countries of Europe and North America."
Olya Korbut is an analyst on sanctions at the Black Sea Institute of Strategic Studies (Ukraine) and an In-resident Fellow at the Center for European Policy Analysis (CEPA, Washington, D.C.). Korbut works on OSINT monitoring and analysis of Black Sea militarization by Russia since 2014, as well as on the creation of a database on exports of Russian oil and other goods by sea since Russia's full-scale invasion of Ukraine on February 24, 2022.