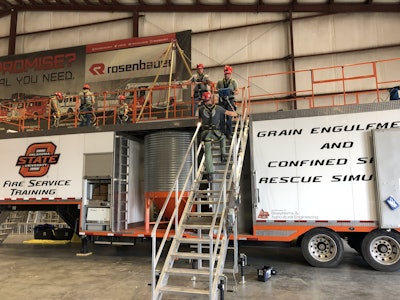 A worker heads over to a grain bin for a "quick job" or a routine check. Realistically, this task is anything but quick or routine.
Before workers even step foot into a grain bin, silo or truck, facility operators should be well-versed in potential hazards, training and even permitting in these locations to ensure the safety of their workers.
Many areas present at grain handling facilities meet the OSHA-defined requirements for a "permit-required space."
These include — but are not limited to — grain bins, silos, boot pits, tunnels, trucks, fuel/fertilizer storage tanks, bulk liquid storage tanks and grain wagons. While all are commonly found at feed mills and grain facilities, these places do carry with them heightened risk to workers.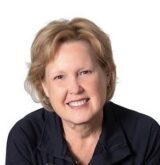 Someone who understands this concept very well is Dr. Carol Jones, Biosystems and Ag Engineering Department emeriti faculty at Oklahoma State University and founder of CL Jones Consulting, LLC, an engineering company which provides services to the grain storage and handling industry.
Jones grew up on a farm in Oklahoma before pursuing an engineering degree, which allowed her to dive deeper into grain and facility processes. She then began to educate others in the industry.
Safety is foremost in Jones' training and consulting work, which includes topics like facility design, aeration management and expert witness services. Part of Jones' work involves helping industry professionals navigate the risks and requirements when it comes to permit-required confined spaces.
In her consultations with representatives of large and small agriculture facilities, Jones encourages a prepared mindset, followed by the proper training and action.
Workers and managers should think through the "what ifs" about their facilities, Jones says.
"What if there is a pocket of out-of-condition material that puts off dangerous gases or has created material stuck to the wall of the bin?" Jones asks. "Or what if the boot pit has spoiled, and moldy grain is giving off CO2 and displacing oxygen?
"Poor quality grain and grain going out-of-condition are major safety concerns in our industry," she says.
The connection between grain condition and safety for both structures and workers is a strong motivation for the training and the internationally recognized extension/outreach work Jones provides. She has lectured in countries around the world, including the Middle East, China, Europe and South America.
Jones is one of only a few university grain storage experts in the U.S. She likes to focus on methods to keep grain and seed in the best possible condition.
Permit resources and training
Worker safety in small, potentially hazardous spaces is an important and multi-layered issue.
The possibility of engulfment/entrapment tops the list of concerns, but it's not the only concern. In addition to grain quality, safety issues can be tied to lockout/tagout procedures, air quality monitoring and monitors, the use and care of safety equipment such as PPE and harnesses, attendant/observer requirements and responsibilities, company safety policies and enforcement, and housekeeping procedures. It's no surprise that best practices for this work begin with permitting.
Facilities should review the OSHA requirements for permit-required confined space to ascertain whether their facility has spaces that meet OSHA 29CFR 1910.146 or 29 CFR 1910.272, reminds Jones.
A "confined space" meets the following criteria: large enough and configured such that a person can enter and perform an assigned task, the space has limited or restricted means of entry or exit, and the space is not intended for continuous human occupancy.
For a space to be permit-required, Jones says, it must meet one or more of the following criteria: contains or has the potential to contain a hazardous material and/or atmosphere; contains a material that has the potential for engulfing or entrapment; has internal configuration with inwardly converging walls or floor with slopes downward to a smaller cross section; or contains any other recognized serious safety or health hazard.
Bin entry permits are the "ticket" granting workers entry to these permit-required spaces. Jones says the bin entry permit can meet both the OSHA grain handling standards (29CFR1910.272) and the confined space standards (29CFR1910.146).
She points facility managers to several examples of bin entry permits on the OSHA and National Grain and Feed Association (NGFA) websites, including a particularly helpful permit-required confined space decision flow chart on the OSHA website in Appendix A of 29CFR1910.146.
Today there is access to myriad reference tools on this subject. While OSHA, the Grain Elevator and Processing Society (GEAPS) and NGFA are all good starting points, Jones says facilities can find many valid resources on the web that were not available even five years ago.
"Training opportunities abound with several of the land grant universities and insurance companies, as well as with some private safety and prevention companies," she says. "GEAPS and NGFA have stepped up efforts for safety training."
As workers and managers become more aware of the hazards possible in these spaces, they continue to make training a priority. Unfortunately, tragedy is often the catalyst for that change.
Making safety a top priority at all levels
Jones cautions that, while OSHA standards apply to facilities with more than 10 employees, many confined space tragedies happen on family farms.
"The same hazards exist on these farms that exist in larger grain handling facilities, so the same precautions should be taken," she cautions. "Never work alone, lockout/tagout all energized equipment, monitor air quality, look for hazardous conditions, use personal protective equipment, maintain equipment, and keep up-to-date with training."
Jones strongly recommends all feed and grain handling facilities designate someone in the company who is an expert in the latest safety requirements. She also notes that while standards are necessary in our culture now, a general attitude of safety first is essential.
"A proactive attitude within the company that focuses on worker safety and training is essential," she says. "There is nothing more important than the safety and lives of our workers. Everyone should go home to the people they love at the end of the day, and we can help make that happen by making safety a priority in our operations. By doing that, we can also meet the required standards."
These safety items — confined space entry permitting and best practices, finding and tracking up-to-date OSHA recommendations, implementing new policies or making changes to older policies — take time, resources and initiative. But it's all for good reason — it just might save a life. ■