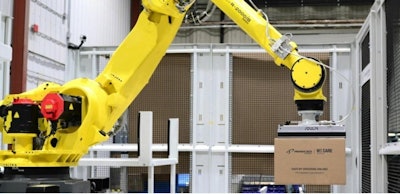 The success of automation rests in the details. Your packaging equipment partner needs to gather information on your needs, product characteristics and plant layout to offer you the best packaging solutions.
Let's take palletizing as an example. The questions you need to ask yourself and your supplier go beyond if you should select a conventional or a robotic palletizer.
Your supplier should be able to guide you through all the details, from layout to the choice of your end-of-arm tooling. Did you know the position of your pallet load has an impact on productivity? There are two main options: to have your pallet placed on the ground or have it exit on a conveyor.
The most straightforward option you could opt for is placing your pallet directly on the ground. It offers a compact layout, requiring very little space in your plant. It's easy to install and calls for less maintenance than the conveyor alternative. By placing your pallet on the floor, a pallet jack is all that is needed to lift and move your load. As a result, you will reduce potential risks associated with forklift traffic in your plant. With the small footprint and easy installation, placing pallets directly on the ground can also be an excellent option to consider if you do not have expansion plans.
The benefits will be different by choosing to exit your pallet on a conveyor. This solution is ideal for a company that wishes to increase its productivity over the years since it offers excellent flexibility in improving its performance.
For example, your palletizer can be directly connected to your load securing or stretch wrapping equipment to increase pallet load stability and throughput. You can also select options that increase the capacity of your equipment and make your packaging process even more automated. For example, a layer conformer, if required, could be added to improve load quality. Conveyor VFDs (variable frequency drives) can help increase your process control, and the addition of automatic high-capacity slip and top sheet dispensers will decrease reliance on operator intervention.
These two options lead to different system choices, proving your packaging line automation lies in the details. It's your supplier's responsibility to ask questions and provide solutions to support you in your automation journey.
To learn more about Premier Tech and its offerings, visit ptsystemsautomation.com. ■