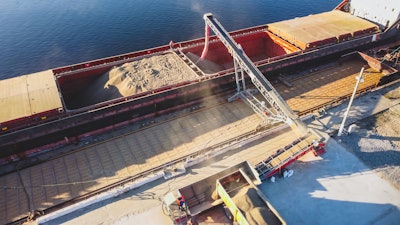 Negotiators from Ukraine and Russia have agreed to prolong a United Nations (UN) and Turkish-brokered Black Sea grain export agreement for an additional 120 days.
The 120-day extension was less than the one-year extension sought by both the UN and Ukraine.
The Wall Street Journal reports grain prices fell sharply after the UN announcement. Wheat prices dropped 1.7% to $8.04/bushel and corn prices were down close to 1% to $6.59/bushel.
Russia wants more fertilizer exports

Russia still feels its own demands have yet to be fully addressed, but did confirm the extension of the grain deal beginning November 18, without any changes.
The export of Russian ammonia via a pipeline to the Black Sea has not yet been agreed as part of the renewal, two sources familiar with discussions told Reuters. But Russia would continue efforts to resume those exports, one of the sources added.
Russia briefly suspended its role in the grain agreement in late October, but then rejoined the deal days later following negotiations with the UN and Turkey.
11 million tons have been exported under agreement

The agreement, initially reached in July, created a protected sea transit corridor and was designed to alleviate global food shortages by allowing exports to resume from three ports in Ukraine: Chornomorsk, Odesa and Yuzhny/Pivdennyi.
The ships will travel through the humanitarian corridor set up in the Black Sea and stop in Istanbul, where they are checked by inspectors from Russia, Ukraine, Turkey and the UN before continuing to the final destination.
Nearly 11 million tons of grain and foodstuffs have been exported to 38 countries under the agreement.