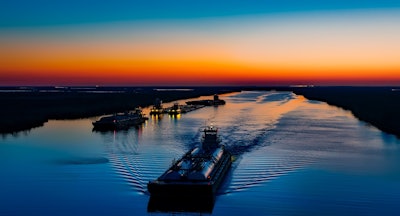 Thanks to improving weather conditions and much-needed rain, the price to move grain down the Mississippi River has fallen by about a third during the last week.
For the last several months, a severe drought in the Midwest has lowered the water levels on the Mississippi River to their worst depth since the 1980s, which constrained the flow of barges carrying grains and even shuttered some grain elevators.
The USDA reports in its latest Grain Transportation Report, that for the week of November 8, the St. Louis spot rate fell 49% from last week to $40.74/ton.
This is the lowest rate since the week of September 20 (when the rate was $38.10/ton) and 62% lower than the all-time record high of $105.85/ton the week of October 11.
The rate is still 145% higher than the same week last year and 128% higher than the 3-year average.
St. Louis 1-month rate fell 12% from last week to $36.58, its lowest since September 13
St. Louis 3-month rate held steady from last week at $30.09/ton
Although closures and dredging operations still disrupt the Mississippi River System (MRS) daily, recent rainfall has helped stabilize portions of the system. The improved conditions have allowed empty barges to move a little more freely.
Forecast models indicate rain that will help the MRS water levels rise near Cairo, Illinois, and Memphis, Tennessee, in the next few weeks, which will further stabilize the MRS.