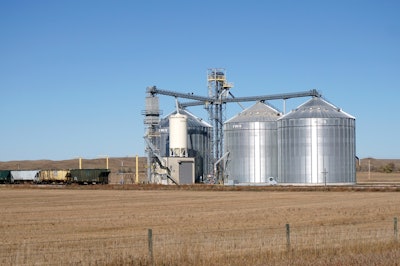 Grain producers, who have already lost access to export markets due to record-low Mississippi River water levels, now face a renewed threat of a rail strike as another union voted against a tentative contract deal reached in September.
According to Reuters, train and engine service members of the transportation division of the International Association of Sheet Metal, Air, Rail, and Transportation Workers (SMART-TD) - the largest U.S. rail union - narrowly voted to reject the deal. That unit, which includes conductors, brakemen and other workers, joins three other unions in rejecting the deal.
"SMART-TD members with their votes have spoken, it's now back to the bargaining table for our operating craft members," said SMART-TD President Jeremy Ferguson in a statement.
"This can all be settled through negotiations and without a strike," Ferguson continued. "A settlement would be in the best interests of the workers, the railroads, shippers and the American people."
Grain shipments up 4% on railroads
With a drought preventing barges from using the Mississippi River, some producers have shifted grain transportation from rivers to the rails, reported Bloomberg.
Grain shipments on U.S. railroads in the last week were up 4% from last year and 6% above the three-year average, according to the USDA's latest Grain Transportation Report.
The good news is that while barge movements remain slow, New Orleans area grain terminals have reported a 35% increase in barges they were able to unload compared to a week earlier, according to the USDA report. The St. Louis spot rate also fell 49%, which is the lowest rate since the week of September 20.
Strike deadline pushed to December
The standoff between U.S. railroad operators and their union workers in September was intervened by a special commission appointed by President Biden. The original deadline to ratify the agreement was November 19, but a cooling off period was extended to at least December 4 to allow unions to accept or reject the contract.

Unions, including a separately contracted unit covering more than 1,000 SMART-TD yardmasters, have ratified nine of 13 agreements covering about half of the 115,000 workers affected by the talks, noted Reuters.
The original deal brokered in September gave union members an immediate 14% raise with back pay dating back to 2020, and raises totaling 24% during the five-year life of the contract, that runs from 2020 through 2024.
It also gives them cash bonuses of $1,000 a year. All told, the backpay and earlier bonuses will give union members an average of an $11,000 payment per person once the deal is ratified.
Labor unions have criticized the railroads' sick leave and attendance policies and the lack of paid sick days for short-term illness. There are no paid sick days under the tentative deal.

Congress may have to intervene

If even one union does not reach a labor agreement, it is possible that all 12 unions will strike in solidarity.
Without an agreement, railroads can begin ceasing rail operations several days in advance in anticipation of a strike - unless Congress intervenes.
Under the Railway Labor Act, Congress can pass legislation to keep the railroads operating.
"The ball is now in the railroads' court," said Ferguson with SMART-TD. "Let's see what they do. They can settle this at the bargaining table."
A strike would be devastating for agriculture
The U.S. economy could lose $2 billion a day if a strike occurs.
According to the Association of American Railroads, rail annually transports 1.5 million carloads of grain. In addition, 248,000 carloads of processed soybeans, primarily soybean meal and oil, are transported each year.
The railway is also critical to transporting fertilizer to U.S. farmers, who are already grappling with supply chain issues that have been exacerbated by the war in Ukraine.
Two weeks ago, the National Grain and Feed Association (NGFA), American Soybean Association (ASA) and 191 other members of the Agricultural Transportation Working Group urged Congress to prepare to prevent a rail strike or lockout, which would "lead to shutdowns of rail-dependent facilities resulting in devastating consequences to our national and global food security."
Read the full letter here.