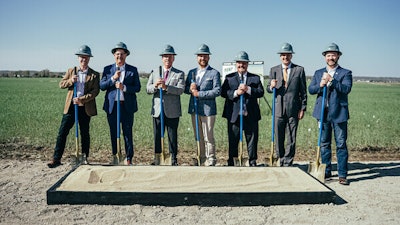 KENT Pet Group has started construction for its new Muscatine, Iowa-based manufacturing plant.
The groundbreaking ceremony coincides with KENT Pet Group's World's Best Cat Litter brand's 25th anniversary.
Since its inception, the KENT Corp. subsidiary has sold nearly 1.5 billion pounds of litter and is expected to reach its goal of donating over 3 million pounds of litter to cat shelters before the end of year.
"Our corn-based cat litter is in high demand," said Steve Gordon, KENT Pet Group president. "Expanding our footprint will allow us to continue to enable the love and boundless joy of pets through innovative products and brands around the world."
Construction completed by mid-2025

The 113,000-square-foot facility will sit on 70 acres adjacent to the KENT distribution center. It will feature state-of-the-art manufacturing equipment, research, development and room for future growth plans.
Building on the success of the KENT Nutrition Group feed mill expansion project in Sheldon, Iowa, KENT Pet Group said it is partnering with WL Port-Land Systems, Inc. for the design, engineering and construction of this facility.
"Today's announcement is an excellent example of a great Iowa business taking a raw commodity like corn and adding even more value to it, which in turn creates new jobs and builds an even stronger future for Iowa agriculture," said Iowa Secretary of Agriculture Mike Naig. "KENT Corporation has deep roots here in Muscatine and I'm grateful they chose Iowa as the place to continue to grow their business."
When complete, the facility will create approximately 30 new jobs. Construction is expected to be completed in mid-2025.