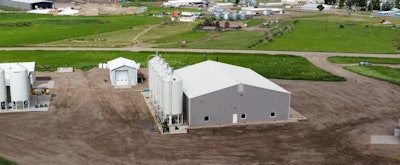 Courtesy of IND HEMP
IND HEMP has completed its state-of-the-art seed cleaning facility and processing expansion, doubling the storage capacity at the IH Oilseeds facility located in Fort Benton, Montana.
The company said the upgrades, along with the company's recent SQF approval, supports domestic customers and opens doors to lucrative export opportunities in neighboring Canada, as well as Korea, Japan, Taiwan and the Pacific Rim.
Constructed in 2019 following the passage of the 2018 farm bill, which legalized hemp production in the U.S., the IH Oilseeds facility stands as a purpose-built food processing center for hempseed grain.
The IH Oilseeds processing facility operates three primary processing lines: dehulling, which involves separating the hemp heart from the hulls; cold press expelling and filtration for hempseed oil, a versatile culinary oil, dietary supplement, and skincare ingredient; and milling and separation for protein powders with varying protein and fiber contents.
Handling, safety and testing requirements for hempseed grain differ significantly from those of conventional cereal grains commonly grown in the area. With the completion of the new seed cleaning facility, IND HEMP said it can now handle higher volumes and improved cleaning efficiencies, benefiting not only industrial hempseed growers but also accommodating other alternative crops that require specialized cleaning and packing facilities capable of handling multiple truckloads.
"It's been a busy few months, as we've worked tirelessly to meet growing domestic and export opportunities," said Morgan Tweet, CEO and cofounder. "We obtained our SQF Global Food Safety Initiative Certification at the end of 2022, appointed a new COO in April, and now, with the completion of our infrastructure expansions, we can effectively support this burgeoning marketplace and the farmers we work with."
Hemp straw and fiber infrastructure investment
In addition to its seed processing capabilities, IND HEMP has also invested in processing infrastructure for hemp straw and fiber. The IH Fiber facility, spanning 52,000 square feet across seven acres and situated across the highway from the oilseeds plant, was inaugurated with Montana's Governor Greg Gianforte in April 2022.
This cutting-edge facility processes hemp straw into bast fiber and hurd (the inner woody core). The hurd material is utilized to not only support the company's HEMPTANA brand with a premium equine bedding product, but also other brands and a variety industries. Our additional milling capabilities support applications like bio-composites, oil and gas, and compounding.
The versatile bast fiber holds tremendous potential, and IND HEMP said it has been actively collaborating with companies across various sectors, including textiles, wipes, feminine hygiene products, battery materials, erosion control, and more. Currently, a significant portion of the bast fiber produced is supplied to Hempitecture, a sustainable building materials company based in Jerome, Idaho. Hempitecture has established a non-woven manufacturing facility producing Hempwool, a natural fiber home insulation and direct replacement for fiberglass insulation, certified by the USDA as biobased.
"Over the past four years, we have been dedicated to building and operating two processing plants for vastly different materials," said Ken Elliott, president and cofounder. "Now, with an exceptional team in place, we look forward to optimizing our efficiency and utilizing our infrastructure to support our mission: connecting American farmers with the businesses and pioneers who envision industrial hemp as a catalyst for positive change in their communities, their health, and ultimately our planet."