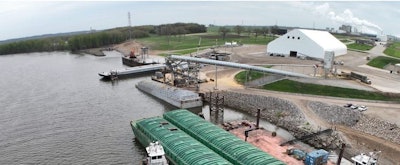 Photo courtesy of Marquis.
Marquis has received the necessary permits for its Marquis south dock expansion project on the Illinois River at the Marquis Industrial Complex.
The company says the new 700-foot loading dock on the mile-long riverfront will allow the export of 20 barges of soy meal from the complex each week, approximately 1.5 million tons each year.
Marquis Grain designed as largest single-site soybean processor in U.S.
Located in Hennepin, Illinois, the Marquis soybean crush facility is designed to be one of the largest single-site soybean processors in the country.
The new facility will be strategically positioned to purchase soybeans within a 75-mile radius of the Marquis Industrial Complex, catering to the needs of farmers and businesses engaged in soybean production, said the company.
By crushing 6,000 tons of soybeans per day, Marquis Grain will procure about 80 million bushels of soybeans annually. The plant will offer a streamlined supply chain and value-added services, contributing to the growth and prosperity of the agricultural community, said Mark Marquis, Marquis's CEO.
"We are pleased to receive the necessary permits to begin dock construction for our advanced soybean crush facility," said Marquis. "Our aim is to actively contribute to the growth of our local community and the surrounding regions by providing a state-of-the-art processing facility to enhance the local agricultural landscape. With our team and technical resources, we are confident this facility will set new benchmarks in soybean processing excellence, safety and sustainability."
Soybean oil will provide a key feedstock for renewable diesel production
The U.S. Environmental Protection Agency (EPA)'s recent revision to the three-year Renewable Fuel Standard Volume Obligations expanded the D4 obligation (renewable diesel) while decreasing the size of the D6 (corn starch ethanol) requirements, said Marquis.
The soybean oil produced at the Marquis Soybean Processing Facility will provide a key feedstock for renewable diesel production.
"The Biden Administration is sending a clear signal with this revision that they see renewable diesel markets growing over the next three years, while renewable fuel-grade ethanol markets are expected to contract," said Marquis.
Marquis noted the soybean oil produced by the Marquis facility will be a key feedstock for clean-burning renewable diesel or sustainable aviation fuel (SAF).