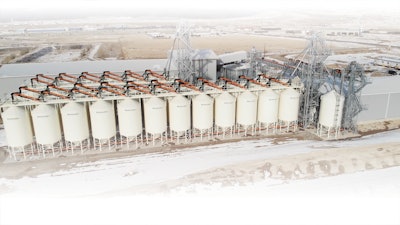 Telling the story of Montana Craft Malt is impossible without telling the story of Ron Ueland. Born and raised on a cattle ranch just a few miles away from Butte, MT, Ueland developed a lifelong connection to agriculture. With this devotion, he would have a long successful career working across different fields of agriculture, growing his knowledge and his relationships. But, Ueland always dreamed of returning to Butte and bringing more agriculture-based business to his hometown. He got his opportunity after reading a white paper from the Montana State Department of Agriculture on the need for a midsized malting facility in Butte.
Ueland jumped on the idea and began using his industry knowledge and connections to plan out his vision and eventually founded Montana Craft Malt in 2018. According to his daughter, Jen O'Brien, president of Montana Craft Malt, Ueland wanted to find a way to support his hometown's economy and create good jobs with what he learned, while honoring the agricultural assets of Montana. Montana Craft Malt became Ueland's swan song, a bookend of his agricultural career.
"He felt very strongly that there was a beautiful opportunity when the craft brewing industry started booming," says O'Brien. "His dream was to create a value-added production model here in Montana. He knew that Montana had one of the best barley growing climates in the world. His idea was to have barley grown here, processed here and sold here. He was extremely excited to launch this product, but unfortunately, he died of a heart attack three weeks after we broke ground."
The project came to a halt after Ueland's untimely passing. The Board of Montana Craft Malt had to decide what direction it would go now that its visionary founder was gone.
Forging a new path
When the Board for Montana Craft Malt met after Ueland's death, they concluded they had already invested a great deal in the path they were on and that everyone in the room still believed in the vision he had set out to create. They then turned to O'Brien to lead them as the company's new president.
O'Brien was born in Montana like her father, but followed a different career path. She worked for Google and other technology companies in Seattle until she began consulting part-time and moved back to Montana with her family after her third child.
"I had a long career in tech," explains O'Brien. "My experience there prepared me with business skills that I'm finding helpful in what I'm doing now. What was new to me was working within the agricultural industry, and I couldn't be more fortunate. I am crazy about growers, and the agriculture world feels like home to me. It's where I wish I had always been."
With the company once more moving forward, they began the work of building a type of malthouse the industry had never seen before.
"Ten years ago there wasn't such a thing as craft malt," says Matt Drew, director of sales and marketing for Montana Craft Malt. "The vast majority of all the malts in the world were supplied by one of three companies. After the initial emergence of craft malting and then the proliferation of craft malt in the marketplace, the market share is still small. Still, everyone doing it today was doing something completely different 10 years ago, myself included."
"What we built is incredibly unique," says O'Brien. "We could borrow designs and best practices from other malting facilities, but there's nothing exactly like what we were building. The design engineer, construction crew and the business side had to learn and adapt as we went forward. My dad kept all his notes in his head, and I don't think anybody knew how big this was going to be."
Building a dream
The grain handing system went through a few designs as Ueland worked with Chief Industries and Soulcraft LLC, whose owner Doug McDowall pitched what would become the final design of the facility.
"They needed something that could achieve total cleanout with no cross-contamination and a long-term life cycle that could easily be maintained," explains McDowall. "That's why the design I pitched, and they went with, looks and operates more like a seed facility versus a feed facility. Ron Ueland had enough vision and understanding in the grain industry to know that what we were proposing would fit his budget, and it would work for what the new malthouse needed."
The timeline for Montana Craft Malt's new malthouse had initially been one year from start to finish, but the build stretched out over two years. Equipment delivery delays and unfortunate world events slowed down the build.
"A lot of the stainless-steel malting equipment we needed is only manufactured in Germany, Austria or China," explains O'Brien. "Because of the cost and timeline, we chose to go with China. We had a million and a half dollars worth of equipment waiting on the
docks in China to come over at the end of June, early July 2019. Then that week, the United States imposed 25% tariffs on goods coming from China. We ended up paying an additional $300,000 to get our [steel] out of China and over to the United States."
The equipment that finally arrived was damaged and incomplete, pushing the timeline back even further. Montana Craft Malt had to work with its team, local welders and fabricators and industry partners to complete the equipment and steel support structures.
"Most of the grain handling structures were only subject to the standard small delays like weather and timing with other portions," says McDowall. "But in the malting building itself, there were issues with some of the equipment that came from China. Montana Craft Malt did an outstanding job of adapting and working through it. We were able to provide, through Chief Industries, retrofitted superstructures that they needed inside that building that China didn't provide."
Moving grain, making malt
The malthouse's grain handling operation works similarly to one found at a seed facility. The plant doesn't have a dump pit, so when deliveries arrive, the truck unloads the barley onto a Batco protable pitstop drive over receving belt. The grain then travels up a
Chief Industries receiving leg and diverts to one of the 14 Meridian hopper bottom tanks that hold 56,000 bushels, through piggybacked Batco conveyors on top of the tanks. Just a small difference in a barley's protein level changes the malting timeline, so each tank must be cleaned entirely out between deliveries.
To start a new batch of malt, previously tested barley is moved from a Meridian raw ingredient bin though Batco conveyors, Chief elevators and distributors into a steep tank within the malting building.
"Malting is the process of starting and controlling a seed's germination," explains Drew. "You steep the grain in water, let it soak up some water, drain the water, then let it rest. During this process, you're awakening that grain so it begins turning its complex carbohydrates down into simple sugars."
Those simple sugars are what get fermented into alcohol. The science/art of malting is getting the grain to create as much simple sugar as possible before the seed starts using the simple sugar to grow. The malting building has four germination vessels, two steep tanks and one kiln. The company's goal is to keep batches of malt continually flowing through the facility with one batch going into the kiln each day.
When a batch finishes in the kiln, it gets moved to a bank of four Clipper declumpers then through a Kice aspirator to eliminate rootlets or any other debris. The malt then moves to one of 24 Meridian tanks comprising 96,000 bushels of product storage, through Batco conveyors. The malt in the storage tanks sits for around a month, and when it's done, it gets moved to a surge bin. From the surge bin, the product can be bagged or put into totes with a bagging system from JEM Int'l System or conveyed into a bulk grain trailer.
"Right now, we're predominantly sending malt out in 50-pound bags on pallets," says Drew. "We also have a bulk filling bin so we can send grain out in totes, and we plan on sending out shipments in food-grade trucks. The county has broken ground on a rail spur to our facility, so we'll soon have the option for sending out malt that way. The way the malt is delivered all depends on the brewer and how their recipes are set up so that we can make it easy for them."
The system is simple by design. It fits both Montana Craft Malt's budget and desire to have a user friendly, low maintenance facility so they can concentrate on doing what they do best — malting.
One more obstacle
After overcoming every roadblock on the path to Ron Ueland's dream, Montana Craft Malt produced its first batch on Feb. 2, 2020 — just in time to encounter another obstacle outside of its control.
"We finished our first batch on Feb. 2, and you typically let malt rest about a month," explains O'Brien. "That meant our product was ready to ship in the middle of March, right as COVID-19 began to change the world. COVID-19 impacted our buyers."
Brewers and distillers went dark from a production standpoint overnight and would remain closed for the next three months.
After two challenging years, Montana Craft Malt finally had a product, but nobody to sell it to as brewers didn't have the cash, appetite or the staff to buy new raw materials. After everything the company has been through, a pandemic was not going to stop their drive.
"We decided to take COVID-19 as an opportunity to tighten our production processes, business processes, train people and hire more employees," says O'Brien. "We went pedal to the metal when everything else went quiet."
O'Brien says the industry is slowly coming out of a tunnel, and people are starting to brew. The company has re-entered the marketplace with a robust initial portfolio of Montana Craft Malts.
The pandemic has highlighted the importance of locally grown and processed grains, something the young company is in a prime position to meet. After all, their mission has always been to use Montana ingredients to make great Montana beer.
Learn more information on the design and build of this innovative facility with Steven Kilger's podcast with Doug McDowall.