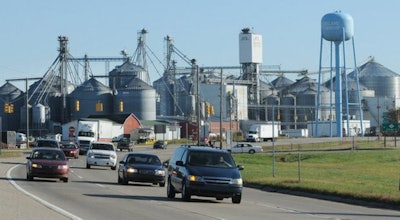 Zeeland Farm Services Inc. announced it will buy a shuttered soybean processing facility, soy flour mill, grain elevator, and non-GMO soybean inventories in Creston, IA, from CHS Inc., says a report on MLive.com.
ZFS Creston is working to hire staff for the facility and plans to restart production as soon as possible. Terms of the sale were not disclosed.
"The history of agricultural production in Iowa is rich and storied, and ZFS Creston, LLC is excited to now be a part of it," says Cliff Meeuwsen, president. "We are looking forward to getting to know the Creston community, recovering jobs, increasing the opportunities for soybean growers around Creston, and growing the breadth of specialty products for our customers."
The facility in southwest Iowa employed 53 before it was closed last December by CHS, the nation's largest farmer-owned cooperative. The facility was acquired by CHS from Creston Bean Processing in 2011, according to The High Plains Journal.
CHS also closed a processing facility Hutchinson, Kansas, and a technology and innovation center in Eagan, Minn. as part of a restructuring.
The facility in southwest Iowa can produce soybean meal, soy white flakes, soy flour and soybean oil used by a variety of consumer food manufacturers and agricultural producers. The facility will target and focus on specialty markets across all products.