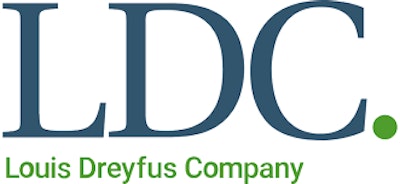 Louis Dreyfus Company B.V. (LDC) has recently unveiled its consolidated financial results for the first half of 2023, demonstrating a remarkable show of resilience despite the ongoing market volatility fueled by geopolitical, macroeconomic, and environmental challenges. The report, released on June 30, 2023, sheds light on LDC's ability to navigate turbulent waters and maintain a steady course.
Financial highlights for H1 2023:
Net Sales: US$25.8 billion
Segment Operating Results: US$1,316 million
EBITDA: US$1,169 million
Income Before Tax: US$654 million
Net Income, Group Share: US$568 million
Return On Equity, Group Share: 15.8%
Adjusted Leverage Ratio: 0.3x
Adjusted Net Gearing: 0.11
In the face of a complex and challenging business environment, LDC reported impressive figures for H1 2023. Net sales stood at an impressive US$25.8 billion, demonstrating the company's unwavering ability to capture profitable origination and sales opportunities, manage risks effectively, and meet customer demand. The stability of EBITDA at US$1,169 million and Segment Operating Results at US$1,316 million further underscored LDC's robust market presence and its capacity to leverage global insights.
Michael Gelchie, LDC's CEO, emphasized the company's commitment to maintaining essential food, feed, fiber, and ingredient supply chains during these turbulent times. He remarked, "LDC successfully navigated a still uncertain and complex market to deliver resilient performance for the first semester, supported by recent developments and investments in asset improvements, in line with our strategic growth plans."
Strategic initiatives for growth
LDC's forward-looking approach during this period was evident through its focus on long-term projects and initiatives aimed at strengthening its core merchandizing activities and diversifying revenue streams. Key developments included the expansion of its canola processing facility in Canada, strategic investments in facilities supporting grains, oilseeds, and sugar origination and logistics activities in Argentina and Brazil, and the inauguration of food industrial parks and instant coffee joint ventures in China and Vietnam.
The establishment of a new Food & Feed Solutions Platform in January exemplified LDC's commitment to capitalizing on market trends favoring nutritious, nature-based products and ingredients. Initiatives such as glycerin refining and edible oil packaging lines at its palm refining complex in Indonesia, announced in July, further demonstrated its dedication to this endeavor.
Sustainability commitment
LDC also took significant strides toward its decarbonization goals by announcing a 33.6% reduction target for Scope 1 & 2 greenhouse gas emissions by 2030, using 2022 as the baseline year. This commitment aligns with the company's broader environmental, social, and governance (ESG) goals and commitments, which were highlighted in its latest Sustainability Report.
Future outlook
Despite the challenges posed by the rapidly changing global landscape, Michael Gelchie expressed pride in the company's accomplishments thus far in 2023. He acknowledged the dedication of LDC's teams and the enduring trust of its global partners. Gelchie conveyed his confidence in LDC's ability to continue building on its positive momentum during the second half of 2023 and beyond.
For a detailed analysis of LDC's performance in H1 2023, you can access the complete 2023 Interim Report on the company's website.