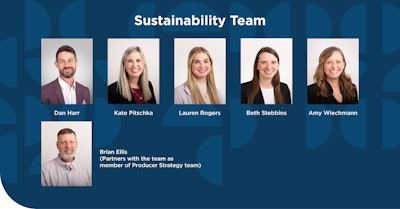 Courtesy of Scoular
Scoular has announced its new team that will both drive the company's corporate sustainability strategy and provide expertise to help customers meet their sustainability goals.
The five-member sustainability team partners with the company's businesses to provide sustainability solutions for Scoular's global grain, feed and food customers, as well as its producers.
"Scoular's team possesses expertise and experience in creating innovative sustainability solutions," said Jennifer Deitloff, Scoular vice president, senior associate general counsel and chief diversity officer and leader of the company's sustainability efforts. "Our company, customers and partners will benefit from their knowledge and passion."
Kate Pitschka, corporate sustainability manager. Pitschka brings over 10 years of experience with sustainability strategy and programs, most recently as the director, supply chain sustainability at ConAgra Brands.
Beth Stebbins, customer sustainability manager. Stebbins was most recently the sustainability manager for Grain Millers where she led their sustainability program, working with customers on multiple initiatives.
Dan Harr, diversity, equity, & inclusion (DEI) manager. Harr has deep DEI experience, including implementing strategic initiatives and scalable ERG programs.
Lauren Rogers, sustainability analyst. Rogers most recently worked as a Sustainability Specialist at the Minnesota Chamber of Commerce, focusing on business waste diversion programs.
Amy Wiechmann, community engagement manager. Wiechmann brings over 10 years of experience in marketing for international consumer-focused companies and is a community volunteer and leader.
In addition, Brian Ellis, who has extensive experience working in regenerative ag with producers, partners closely with the sustainability team as a member of Scoular's producer strategy team.
In 2020, Scoular announced its five-year sustainability strategy and its five sustainability pillars:
Reducing Scoular's carbon footprint
Fostering responsible product sourcing
Engaging in Scoular's communities
Promoting diversity and inclusion
Upholding workplace health and safety