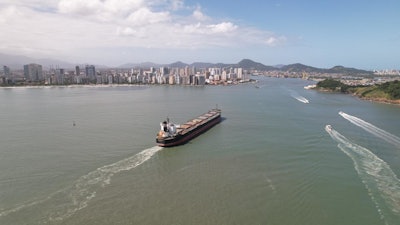 Courtesy of ZeroNorth
Cargill has signed a three-year contract that will see ZeroNorth become its primary software provider for optimizations across vessels and voyages.
ZeroNorth will become the main optimization partner for more than 600 vessels. The deal will drive efficiencies and contribute to Cargill's environmental and commercial goals.
Cargill commenced its strategic partnership with ZeroNorth in 2020. The partnership has expanded over time, with Cargill and ZeroNorth working together to develop ZeroNorth's advanced, market-leading fuel model and develop solutions for the dry bulk market.
The expansion of ZeroNorth's partnership with Cargill highlights the rapid and ongoing transformation within the industry and the need for solutions that help drive the green transition. ZeroNorth's full suite of services enables customers to optimize their voyage and vessel operations and drive the meaningful efficiencies and immediate emissions reductions that are critical on the path to decarbonization, said Niels Snog, CCO at ZeroNorth.
"This three-year deal with Cargill shows the significant value of our full service offering and the benefits that can be generated by our holistic ZeroNorth platform," said Snog. "It represents the next evolution of our relationship together and signals how ZeroNorth can support Cargill's evolving needs and expand our range of services and capabilities accordingly."
In July, another global grain giant, LDC, selected ZeroNorth to provide data-driven optimization services to improve vessel performance and reduce fuel consumption across LDC's chartered fleet of approximately 200 vessels.