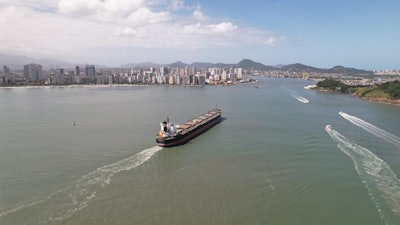 Courtesy of ZeroNorth
ZeroNorth has been selected by Louis Dreyfus Company (LDC) to help accelerate the company's decarbonization journey by providing data-driven optimization services to improve vessel performance and reduce fuel consumption across LDC's chartered fleet of approximately 200 vessels, ranging from handysize to capesize.
The ZeroNorth platform converts data into tangible actions, interconnecting millions of data points into a single source of truth. The platform will provide LDC with data-driven recommendations on optimal routing based on specific voyage, vessel, bunker and emissions optimization objectives. LDC will also benefit from further insights into its fleet, with a real-time view of the status of all vessels and suggested actions to be taken to improve performance.
"As a responsible freight operator, we are committed to operating our vessels in the most fuel-efficient way, to reduce shipping emissions as part of the group's overall decarbonization journey," said Sébastien Landerretche, LDC's global head of freight. "With a clear vision for their solution and strong subject matter expertise, we see ZeroNorth as a key partner paving the way for further actions, such as investment in Energy Saving Devices and adoption of alternative fuels, which are core to the Group's strategy to help deliver a more sustainable maritime sector."
Soren Meyer, CEO, ZeroNorth, said that in an increasingly complex industry with tightening environmental regulations, it's important to choose pioneering partners that can lead the way and raise the ambition for the entire industry.
"Collaboration is key to driving greener operations across the industry," said Meyer. "We look forward to helping LDC gain additional insight into its fleet, improve vessel performance, and ultimately make positive decisions for both profit and planet."