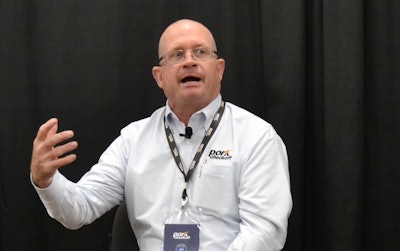 Roy Graber
The majority of the discussion during the "Turning Animal Agriculture's Toughest Challenges into Our Biggest Opportunities" seminar at the 2023 World Pork Expo focused on embracing technology to more efficiently and sustainably feed the world.
Jamie Burr, chief sustainability officer for the National Pork Board, not only discussed the importance of innovation and the future of agrifood production, but he also stressed the importance of remembering the past, and how much progress the industry has made.
"I don't want us to lose sight that there has been a lot done in the past. If you think about it from a genetics perspective, if you think about it from a feed perspective … there has been tremendous improvement in feed conversion. If you think about it, through my career in the past 25 years, feed conversion was at 3.5 or so and today it is 2.7," Burr said.
Burr, who joined the National Pork Board in March after most recently working as the Tyson Foods director of environmental compliance, also pointed out industry improvements including the use of less fertilizer and chemicals, and raising more food while using less land.
"We've got to be careful not to lose sight of that. The rearview mirror is smaller than the windshield, but we still need to make sure that story's told," Burr said.
The seminar, which was hosted by Alltech/Hubbard Feeds was part of the June 7 activities of World Pork Expo, held in Des Moines, Iowa.
Alltech President and CEO Mark Lyons moderated the seminar, which featured three other speakers in addition to Burr.