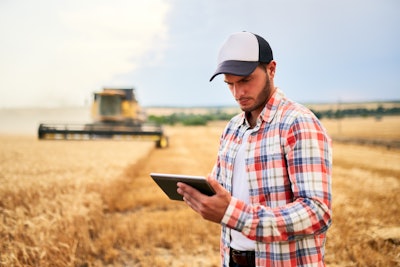 Artiemedvedev | BIGSTOCK.com
Delphos Cooperative, located in Delphos, Kansas, serves over 450 members across five of the state's north-central counties, handling a range of grain commodities such as wheat, corn, sorghum, soybeans, oats and sunflower seeds, as well as fertilizer and other agronomy products.
Dedicated to providing commodities and services to local farmers and their families, the co-op is heavily involved in the cattle and farming industry throughout the Tallgrass Prairie, an area of the Great Plains characterized by tall grass, low hills and flat plains.
In the last three years, the co-op has increased investment at its grain elevator in Delphos and mobile operations technology to better serve members and streamline management and accounting functions for the cooperative.
Brett Courson, Delphos Co-op's general manager, sat down with Feed & Grain editor Elise Schafer to share how embracing technological advances across the agriculture supply chain is giving Delphos Co-op the tools and agility needed for a long-term future in agriculture.
Schafer: What role does facility automation play in your operations, and how does it impact your ability to hire and retain labor?
Courson: Facility automation allows grain operations to become more efficient and organized by collecting data and providing analysis capabilities. This helps grain operations automate identifying issues, tracking deliveries, monitoring inventory levels and spotting operational inefficiencies that could otherwise go unnoticed.
Automated data collection tools also enable grain operators to accurately forecast demand, increase safety measures, improve customer service, and help reduce operational costs. Facility automation helps grain operations stay competitive and compliant with regulatory standards while keeping their edge.
Technology and automation can have a positive impact on the ability to hire and retain labor, depending on how it is implemented. Technology can help streamline processes and reduce human input, which can free up time and resources for hiring and retaining the right talent.
Automation can also create an atmosphere where workers view their jobs as expendable or replaceable and it could prevent potential talent from entering an environment that may not value their skills.
It is important when implementing automation and technology in facilities to ensure existing workers are trained on the new technology and given the chance to upskill. If done correctly, new tools can help create more opportunities for employees, rather than hinder them.
Schafer: What crop production technologies will have the biggest impact on the grain industry in the future?
Courson: One is advances in GPS-enabled seeding, harvesting, and crop identification/management, enabling more precise use of resources, higher quality and higher yields from field to storage.
The use of data analytics to optimize crop productivity is another. Major grain handlers are leveraging data analytics to measure and optimize crop productivity to reduce waste and ensure quality.
Schafer: What are some benefits of digital grain contracts and what was your members' initial response to offering mobile transactions?
Courson: Our mobile app offers customers convenience, accessibility, and automation by allowing them to manage their Delphos accounts quickly and easily from their own home. They can track their account activity, view contracts, manage their grain accounts, make payments, and set up automatic deposits. The app by Bushel also sends our customers real-time alerts and notifications, so they never miss important updates.
When our mobile app first launched, the adaptation rate was relatively low. We attribute this to the lack of visibility, our users' limited exposure to the concept of a mobile app for grain, as well as uncertainty over how to use it.
Our advice for co-ops interested in launching a mobile app would be to focus on creating hype around the app and enhancing user visibility through promotional campaigns that capitalize on existing user interests. If possible, running a reward scheme or offering exclusive offers through the app can also encourage more users to adopt it.
Additionally, user onboarding should be simple and intuitive, with clear, easy-to-follow instructions for downloading and using the app.
Schafer: What do you think will be different about Delphos Cooperative in 15 years?
Courson: In 15 years, Delphos Cooperative is likely to be much different than it is today. As technology advances, the cooperative will likely take advantage of new developments in equipment and software.
Automation could be more widespread with robots and drones being utilized to complete tasks or observe patrons, and cybersecurity measures will likely be more stringent to protect customer data.
At the same time, some of what makes Delphos Cooperative special will remain the same. Our mission is to build strong and resilient communities by broadening members' access to the commodities and services we offer. We focus on building relationships with local farmers by providing excellent customer service, competitive pricing, and value-added products and services.
The cooperative will still be committed to meeting the needs of local farmers, providing them with the best service and highest quality products. The staff will continue to value customer relationships and will be involved in our local community. Finally, the Delphos Cooperative will stay true to the core values of customer service, honesty, and integrity.