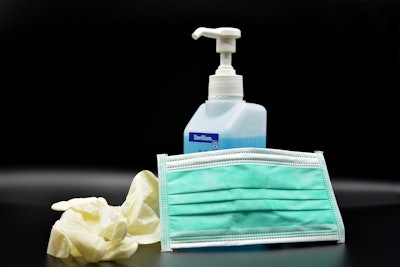 But since grain, feed, processing, milling and export facilities serve as vital links in the animal and human food chain, they were able to continue operations throughout the pandemic.
In order to reduce the impact of COVID-19, facilities began enforcing social distancing measures, requiring face masks on employees and implementing new sick time off policies, among other changes.
To guide these policy decisions, the World Health Organization, OSHA and grain and feed industry associations have issued guidance documents and resources for companies to follow. One of the first recommended steps is to create a COVID-19 Exposure Control and Response Plan.
Making a plan
Once OSHA identifies a serious safety or health hazard, it requires employers to develop a written program outlining the steps they will follow in response to the hazard. This type of plan is common in the grain and feed industries, and other examples include written lockout/tagout programs, respiratory protection programs and emergency action plans to protect against the risk of fires in the workplace, according to Conn Maciel Carey LLP.
A COVID-19 Exposure Control and Response Plan should address the following:
Social distancing measures
Engineering controls and administrative controls where workers cannot maintain social distance of at least 6 feet apart
Personal hygiene
practices and requirements
Personal protective
equipment required for various tasks
Housekeeping protocols for frequently touched equipment, surfaces and tools
Communication plans for employees and customers
Health screening
strategies to keep sick workers home
Responses to confirmed cases among your workforce
Risk responses
An important part of the plan includes monitoring your employees' health. To help companies identify who is most at risk in your workforce, OSHA developed four levels of exposure risk.
Very High Exposure Risk: High potential for exposure to known or suspected sources of COVID-19 during specific medical, postmortem or laboratory procedures. This designation is for healthcare and related medical field workers.
High Exposure Risk: Jobs with a very high potential for exposure to known or suspected sources of SARS-CoV-2 during specific medical, postmortem or laboratory procedures.
Medium Exposure Risk: Jobs that require frequent/close contact with people who may be infected, but who are not known to have or suspected of having COVID-19.
Lower Exposure Risk: Jobs that do not require contact with people known to be, or suspected of being, infected with COVID-19. Workers in this category have minimal occupational contact with the public and other coworkers.
Most feed and grain facility employees are considered lower risk as manufacturing facility and office workers do not have frequent close contact with coworkers, customers or the public. It is advisable for companies to allow staff members who can work from home to do so as long as possible to remain in the lower exposure risk category.
One risk assessment tool companies may use is an infrared non-contact temperature device. Purdue Farms, for example, requires everyone entering its production facilities to have their temperature taken each day by trained testers.
Anyone with a temperature at or above applicable health department guidelines is directed to that facility's onsite Wellness Center for further screening and instruction.
For workers who are healthy enough to report to work at a feed or grain facility, OSHA recommends increased cleaning and disinfecting with EPA-approved disinfectants to minimize the potential for others to be exposed to the virus.
Identify those in your company who may be medium risk due to frequent contact with travelers returning from international locations with widespread COVID-19 transmission. These workers should limit their contact with other employees and customers or visitors and should remain in areas properly outfitted with engineering controls.
As the nation collectively adjusts to a new normal, feed and grain companies must act accordingly to keep facilities clean, workers protected and the food and feed it provides moving efficiently throughout the supply chain. ■
AMERICAN FEED INDUSTRY ASSOCIATION'S LEAH WILKINSON COVID-19
Leah Wilkinson, AFIA's vice president of public policy and education outlined the association's top priorities when it comes to battling the coronavirus in the feed industry. Wilkinson said the top priority early on was making sure that animal food manufacturing — including feed, feed ingredients, pet food, packaging, transportation and retail — could operate.
"We succeeded in being deemed as essential or critical infrastructure so we could feed livestock, poultry, aquaculture and companion animals throughout the pandemic," she says.
Secondly, AFIA made sure employees were kept safe. Wilkinson says, "We provided recommendations on how to reduce traffic flow in and out of the feed mill and offices, ways to communicate different policies with their employees and how to address sick employees coming back to work."
The third priority is making sure supply chains keep flowing. Supplies of imported products from China were tight with the closure of ports and facilities and the domestic supply chain was affected by diminished human food services and processing.
"With dropping baked goods consumption at hotels, restaurants and bakeries, the flour mills weren't milling as much, so some regions were short on wheat midds," says Wilkinson. "The shuttering of many ethanol plants left feed manufacturers and cattle producers short on distillers' products, so companies have had to reformulate their diets in order to find another source of protein and energy.
"Remaining flexible throughout this pandemic will help ensure the livestock and poultry industry remains a healthy, vital part of the U.S. economy," Wilkinson concludes.
AFIA's ongoing efforts regarding COVID-19 can be found at afia.org/coronavirus.
COVID-19 GLOSSARY
Since COVID-19 hit U.S. soil, a slew of new words and phrases entered mainstream vocabulary, like social distancing, essential worker, contact tracing and herd immunity.
In order to protect employees in accordance with OSHA guidelines employers must understand these two terms:
Administrative Controls. Training, procedure, policy or shift designs that lessen the threat of a hazard to an individual. Administrative controls typically change the behavior of people rather than removing the actual hazard or providing personal protective equipment.
Engineering Controls. Strategies designed to protect workers from hazardous conditions by placing a barrier between the worker and the hazard or by removing a hazardous substance through air ventilation.
ADDITIONAL RESOURCES
For more information on developing a COVID-19 Response Plan, click on the following links: