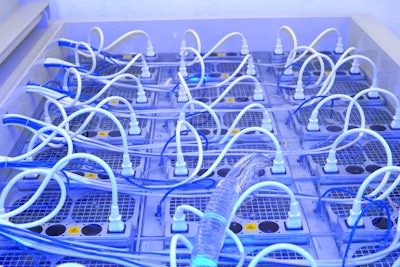 Cargill, a leading global food, feed and ingredient company, announced the launch of the first-ever plant-based dielectric fluid, a renewable fluid used in immersion cooling of electronics at data centers. NatureCool 2000, Cargill's newest bioindustrial product, significantly reduces energy usage and may benefit ag, greenhouse and other industrial facilities as an affordable heating source.
In electronics cooling applications, immersion cooling submerges servers in a bath of non-conductive liquid, allowing thermal heat generated by computer components to be transmitted into the fluid and cooled. This energy-saving method also extends the life of the equipment, supports higher chip densities and lowers overall operating cost.
As data generation continues to grow exponentially, more data centers and cryptocurrency mining centers are needed, which use massive amounts of power.
Data centers account for nearly 3% of global electricity use and more than 2% of total greenhouse gas emissions — as much as the carbon footprint generated by the airline industry. Those looking for ways to reduce their energy use and support corporate social responsibility goals are turning to immersion cooling to replace conventional air-cooling systems. In addition to data centers, immersion cooling can be applied to other complex electronics.
Sustainable cooling and heating solution
Cargill's NatureCool™ 2000 fluid provides the benefits of immersion cooling and makes the process sustainable by offering a high performing plant-based solution. Made from more than 90% renewable vegetable oil, along with performance-enhancing additives, the fluid allows for more than 1,000 times more cooling capacity and up to 60% less energy usage compared to conventional air cooling.
The fluid is CO2 neutral with a Global Warming Potential of zero, helping companies that adopt the application meet their sustainability goals. Furthermore, immersion cooling can be a source of heat for buildings without using conventional electric or gas heat sources.
Mindful Energy Solutions, Inc., based in Manitoba, Canada, uses NatureCool 2000 fluid in modular data mining tanks positioned at large farming, greenhouse and industrial facilities near Winnipeg, MB. The fluid provides a source to cool the data processing equipment and the thermal energy stored in the fluid is upcycled as an effective and affordable heat source for warming those facilities nine months a year.
"We were seeing businesses with huge losses on both ends of the energy use spectrum — from inefficient cooling of processors upfront — to not having the ability to capture and reuse generated heat on the back end," said Stephane Gauthier, partner and CEO of Mindful Energy Solutions, Inc. "Now, by utilizing the heat held in the immersion cooling fluid, we're seeing some customers cover 100% of their annual heating cost in facilities that are over 10,000 square feet, representing huge savings while being more sustainable."
NatureCool 2000 fluid joins a diverse portfolio of Cargill Bioindustrial plant-based solutions, ranging from asphalt rejuvenation, adhesives and binders, wax, lubricants and transformer insulating fluid.