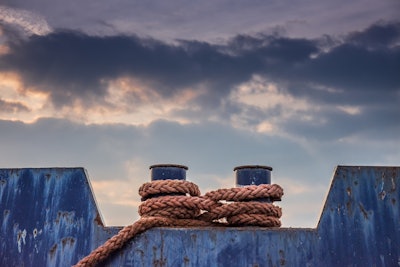 Cargill is taking a step to resurrect wind power for cargo ships as it moves to cut emissions from its chartered fleet, a top executive told Reuters.

Cargill will test a dry bulk vessel with two wind sails carrying cargo onboard later this year, Jan Dieleman, president of the group's ocean transportation division, told Reuters. The ship will go into dry dock to mount the sails in the coming weeks.
Dieleman said Cargill was also exploring different wind-assisted propulsion technologies, adding that wind would not get the group to a zero-carbon level, but was "a step toward zero."
In addition, Cargill has signed a long-term charter deal for two dry bulk ships which can be fueled by methanol and will be delivered at the end of 2025 and the start of 2026. Methanol is a clean energy resource used to fuel cars, trucks, buses, ships and more.
WindWings from Bar Technologies
In 2020, Cargill and BAR Technologies embarked on a strategic project with naval architect Deltamarin to bring cutting edge wind propulsion technology to commercial shipping.
The project featured BAR Technology's WindWings -- large, solid wing sails that measure up to 45 meters (148 feet) in height -- fitted to the deck of bulk cargo ships to harness the power of the wind and reduce CO2 emissions by as much as 30%. The number of wing sails can be tailored to the size of the vessel and the route it will take.
"Wind is a near marginal cost free fuel and the opportunity for reducing emissions, alongside significant efficiency gains in vessel operating costs, is substantial. We've invested in our unique wind sail technology to provide vessel owners and operators with an opportunity to realize these efficiencies," said John Cooper, CEO, BAR Technologies.
Cargill strives to decarbonize shipping

Also in 2020, Cargill joined several players in the global maritime industry to launch the Maersk Mc-Kinney Moller Center for Zero Carbon Shipping in Copenhagen, Denmark.

The effort was part of Cargill's overall commitment to reduce greenhouse gas (GHG) emissions across its global supply chains by 30% per ton of product by 2030. For its fleet of 600 chartered vessels, Cargill had reduced its aggregated gross CO2 emissions by around 800,000 metric tons between 2018 and 2020 by operating a more energy-efficient fleet and retrofitting energy-saving devices onboard certain vessels.
Cargill is also playing a leading role in industry-level decarbonization initiatives, notably with the Global Maritime Forum.
Around 90% of world trade is transported by sea, and the maritime industry accounts for around 3% of global carbon emissions. The industry has made a strong commitment to reduce these to zero after 2050. Short-term measures will support increased energy efficiency, allowing for a 40% relative reduction in 2030 across the industry.