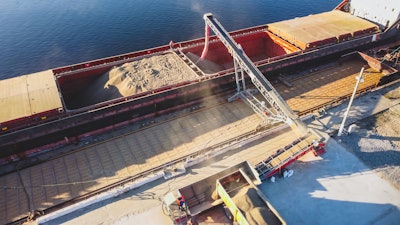 Ukraine's crop exports are being threatened again, with Black Sea grain shipments halting just as some central European Union countries stop allowing imports of its cargoes, reports Bloomberg.

On Monday, Slovakia joined Poland and Hungary in banning grain imports from Ukraine.
It's a setback for Ukraine, which when faced with difficulties shipping by sea in the wake of Russia's invasion had been sending some cargoes by rail, truck and river through bordering EU countries.
Russia blocking inspection of grain shipments in Turkish waters
In addition, Reuters reports that Ukraine said the Black Sea Grain Initiative was in danger of shutting down after Russia blocked inspections of participating ships in Turkish waters.
Inspections were also briefly halted last week, and Russia has indicated it may quit the initiative if its issues aren't resolved by mid-May.
In a Facebook post titled, "Grain initiative under threat of shutdown," Oleksandr Kubrakov, vice prime minister for the Restoration of Ukraine, said the Black Sea Grain Initiative was under threat of shutdown because "the Russian side, for the second time, blocked the inspections of vessels in the territorial waters of Turkey."
"For the second time in nine months of the Grain Initiative, no inspection plan has been drawn up and no vessel has been inspected. This jeopardizes the functioning of the Grain Initiative."
Bridget A. Brink, U.S. ambassador to Ukraine, said on Twitter over 50 ships were awaiting approval to go to Ukrainian ports "to load grain that will feed those who need it."
Related reading
Ukraine grain import bans now in Hungary, Slovakia
Poland suspends grain imports from Ukraine