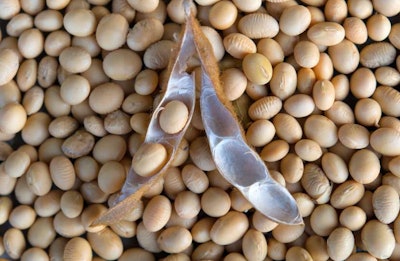 In March, China's soybean imports rose 7.9% from the same month a year earlier as buyers in China stocked up ahead of expected strong demand.
According to reports, the General Administration of Customs noted total imports for the month came to 6.85 million tonnes, down 2% from February's 7.04 million tonnes.
Arrivals for the first three months of the year came to 23 million tonnes, up 13.5% from a year earlier, the data showed.
Much larger volumes are expected in coming months, said traders and analysts, but demand has proven weaker than expected.
Earlier this week, the USDA's Foreign Agricultural Service (FAS) noted in its monthly Oilseeds: World Markets and Trade report the 2022/23 soybean trade is forecast well above last year, owing mostly to record Brazil production and strong global demand. While import demand has plummeted in markets like Bangladesh, Pakistan and Egypt, this is mostly offset by growth in markets including Argentina and China.
China plans to reduce soymeal in animal feed
China's agriculture ministry issued a three-year action plan to reduce the inclusion rates of soybean meal in animal feed in an effort to reduce its reliance on soybean imports, according to a Feed Strategy report.

The new plan says soymeal inclusion in animal feed should be reduced to less than 13% by 2025, down from 14.5% in 2022. It would "guide the feed industry to reduce the amount of soybean meal, promote the saving and consumption reduction of feed grains, and contribute to ensuring the stable and safe supply of grain and important agricultural products," said the document, published by the Ministry of Agriculture and Rural Affairs.
China is named 'world's largest wheat importer'

FAS also said in its monthly Grain: World Markets and Trade report that Chinese wheat imports are forecast up to 12 million tons this year, which is the country's highest level of wheat imports since 1995/96 when imports reached 12.5 million.
Chinese wheat prices have lingered around $450/ton over the past year while Chinese corn prices have averaged above $400/ton. Meanwhile, international wheat prices have trended lower over the past few months, falling below $400/ton with ample exportable supplies from Australia, the EU and Canada.
Competitive pricing has prompted China to import large volumes of both milling and feed quality wheat. With international wheat at a discount to domestic grain, some Chinese feed mills have substituted corn with imported wheat in feed rations.
Although China's wheat feed use is down year over year as corn feed use rebounds, it still represents a quarter of the country's total wheat consumption.