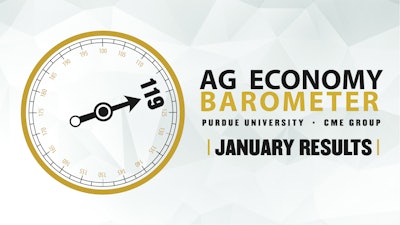 Farmer sentiment weakened in January as the Purdue University/CME Group Ag Economy Barometer declined 6 points to 119, down from 125 a month earlier.
This month's decline leaves the barometer just three points higher than in November and is the second-lowest sentiment reading since July 2020.
The Ag Economy Barometer declined 6 points in January in large part because of weakening perceptions of current conditions by producers.
Rising farm input costs and ongoing supply chain disruptions appear to be contributing to producers' weaker perception of current conditions. More producers expect the size of their operating loan to increase this year than last year or two years ago with the rise in farm input costs being the most commonly chosen reason for a larger operating loan.
Weakness in the Farm Financial Performance Index indicates producers expect lower farm incomes in 2022 compared to 2021 as producers look for higher production costs to offset commodity price strength.
Farmers in January also expressed less confidence that farmland values will continue to rise over both the short-run and longer-run time frames as both farmland values indices have fallen about 10% from their respective fall 2021 peak levels.
Download the January 2022 Ag Economy Barometer Report.