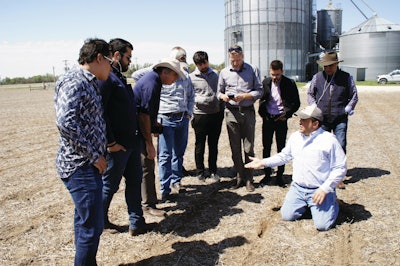 Exports of grain all forms (GIAF) totaled more than 55 million metric tons (equivalent to 2.17 billion bushels of corn) in the first six months of the 2018/2019 marketing year (September 2018-February 2019), according to data recently released from the U.S. Department of Agriculture (USDA) and analysis by the U.S. Grains Council (USGC).
The Council uses the GIAF calculation to help capture how important overseas markets are for U.S. feed grain producers by including both exports of corn, barley and sorghum and products made with them as inputs including the corn equivalent of co-products like ethanol, DDGS and corn gluten feed/meal as well as beef, pork and poultry meat exports.
Significant sales of U.S. corn, dried distiller's grains with solubles (DDGS) and ethanol represented the bulk of exports with long-time customers Mexico, Japan and South Korea ranking as the three largest GIAF buyers.
U.S. corn exports totaled nearly 28.7 million tons (1.13 million bushels) in the first six months of the marketing year, based on competitive pricing, favorable trade policies and robust market development work.
Exports of U.S. DDGS remained on pace with the prior year at nearly 5.45 million tons.
The export market for U.S. DDGS has diversified significantly in recent years, following continued efforts by Council staff and consultants worldwide to promote the value of the feed ingredient to importers and nutritionists after the Chinese government implemented anti-dumping and countervailing duties on U.S. DDGS in 2013 and caused widespread market disruption.
Expanded worldwide market development work has also fueled rapid upward trajectory of U.S. ethanol exports, totaling nearly 795 million gallons (282 million bushels in corn equivalent) thus far in 2018/2019. U.S. ethanol is a competitively-priced product compared to those of other ethanol-exporting countries as well as fossil fuel alternatives like MTBE (methyl tertiary butyl ether) and aromatics (benzene, toluene and xylene). The Council and its domestic partners have set up U.S. ethanol to capture resulting sales opportunities by educating government officials and end-users on the merits of increased ethanol use, promoting ethanol policies with a role for trade and assisting buyers with overcoming logistical issues.
As the 2018/2019 marketing year continues, the Council will continue to stimulate new demand in existing and untapped grains markets and explore new approaches to value-added products that hold demand promise.
Mexico maintains status as top export market
As the top GIAF customer again in 2018/2019, Mexico remains a critical market for all segments of the U.S. grain export industry. The Council's programs in Mexico are strategically focused to maximize the U.S. marketing advantages of close geographic proximity and duty-free access provided by the North American Free Trade Agreement (NAFTA).
This year's successful sales underpin the importance of the duty-free access provided by the existing NAFTA and the ongoing efforts to finalize the U.S.-Mexico-Canada Agreement (USMCA). In combination with that market access, well-developed North American supply chains and robust market development work by the Council and its members have resulted in roughly 98% U.S. market share for imports of feed grains and co-products from 2014 to 2016.
Mexico is the top customer for U.S. corn exports thus far in 2018/2019 at 8.59 million metric tons (338 million bushels). The Council keeps Mexican buyers well-informed on the progress of the U.S. corn crop and conditions, including through crop quality seminars that help establish clear expectations with buyers and end-users regarding the quality of corn in the current marketing year.
Mexico also ranked as the top buyer of U.S. DDGS at nearly 978,000 tons in the first six months of the 2018/2019 marketing year and the Council is expanding efforts into untapped areas of potential demand for the feed ingredient.
In March, the Council, the Missouri Corn Merchandising Council and the Regional Livestock Pork Producers Union of Sonora (Union) met in Ciudad Obregon, Mexico, to sign a memorandum of understanding (MOU) acknowledging a joint investment project between
Missouri Corn and the Union in 2018. Each group purchased hard car unloaders — known as "stingers" — for the Ciudad Obregon rail terminal in the state of Sonora that will help increase the efficiency of DDGS shipments arriving at the terminal.
The Council projects in four years, this terminal will unload approximately 100,000 tons of U.S. DDGS, valued at $23 million annually.
Japan remains loyal customer
As a result of Council efforts, Japan has grown into one of the most important GIAF importers, ranking as the second largest overall GIAF market overseas thus far in the marketing year.
Ranking as the second largest buyer of U.S. corn, Japanese purchases totaled 6.69 million tons (263 million bushels). Japan is a mature and stable market for U.S. corn and the Council regularly exchanges information and opinions on the feed grains market and outlook in Japan, especially surrounding U.S.-Japan trade negotiations. Two U.S. farmers joined USGC officials in Japan in January 2019 to report on the quality of the latest U.S. corn crop during a corn outlook conference and a mix of meetings with U.S. and
Japanese government officials and two different Japanese trade associations.
Information-sharing is also key to the Council's work to increase U.S. DDGS-use by the Japanese livestock industry. The industry is gaining confidence with increased experience with U.S. DDGS. Japan now ranks as the eighth largest buyer of U.S. DDGS, purchasing 227,000 tons thus far in the marketing year, after setting a record for imports at the end of 2017/2018.
Furthermore, the Council is engaged in full-scale efforts promoting U.S. ethanol in the Japanese fuel market. A government decision to now allow U.S. ethanol to be used as a feedstock for ethyl tert-butyl ether (ETBE), a component of gasoline used in that country as an oxygenate, provides additional encouragement for broader acceptance in coming years. In the meantime, Japan continues to ramp up U.S. ethanol purchases with imports of 4.62 million gallons (1.64 million bushels in corn equivalent) thus far in the marketing year, already more than quadrupling year-end totals from 2017/2018.
USGC defends South Korean market
Demand for coarse grains is on the rise in South Korea, as is competition among major exporting countries to increase market share. The Council has worked in South Korea since 1972, and USGC programs have been instrumental in the growth of the livestock and corn processing industries in the country. Thus far in the 2018/2019 marketing year, South Korea ranked as the third largest GIAF buyer.
The U.S.-Korea Free Trade Agreement (KORUS) went into effect in 2012 and the resulting market access has spurred an explosive rate of growth in Korean imports of U.S. corn. Overall, U.S. corn exports to South Korea have increased 61% since KORUS went into effect in 2012. In the first six months of the current marketing year, South Korea purchased nearly 2.35 million tons (92.5 million bushels) of
U.S. corn.
For the last 15 years, South Korea has also steadily increased imports of U.S. DDGS, setting a new high each year since 2010/2011. South Korea officially exceeded one million tons of U.S. DDGS imports in the last marketing year for the first time, with current sales at nearly 513,000 tons, ranking the country as the fifth largest buyer of U.S. DDGS.
Ninety-six percent of feed millers in South Korea now include U.S. DDGS in their rations for the country's livestock and poultry industries, thanks in part to work started by the Council in 2004 to introduce this feed ingredient. Now the Council is working to increase average inclusion rates by providing additional technical expertise.
Bioethanol is a new focus area of the Council's market development activities in South Korea. South Korea currently uses roughly 140 million gallons of ethanol each year, but only for beverage and industrial uses. The Council is working with stakeholders and government officials in South Korea to address concerns related to supply chain consistency, food versus fuel myths and current reliance on MTBE (methyl tertiary-butyl ether) as an oxygenate.
Six months into the 2018/2019 marketing year, South Korea ranked as the fifth largest buyer of U.S. ethanol at 56.3 million gallons (nearly 20 million bushels in corn equivalent). ■