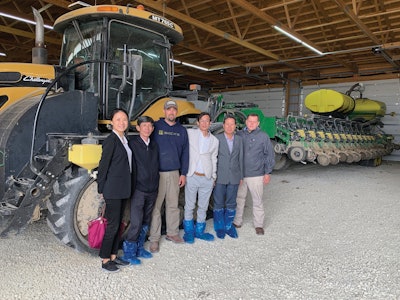 With the eyes of the world on the 2019 corn, sorghum and barley crops now in and growing, trade teams are starting to transverse U.S. farm country as part of the U.S. Grains Council's (USGC) work to promote exports of these grains and related products.
Trade teams are a powerful part of the Council's market development toolbox. Bringing global grain buyers and end-users to the United States provides good opportunities for those participants to learn about the U.S. grain value chains and build a baseline understanding of the benefits of U.S. origin that supports the long-term demand-building efforts of the Council.
The basic premise of a trade team visit is relatively straightforward: come and see the U.S. grain value chain in action, including the technology used to grow a crop in the farmer's field, the functionality of the grain elevator system, the efficiency of an ethanol plant, the rigor of the grain inspection process, the capacity of the transportation system and many other specialized topics.
Rather than a cut-and-paste template, the Council works with its members to design trade teams with specific goals, including educating buyers, addressing specific concerns or questions, connecting buyers and sellers — just to name a few. The Council's extensive membership network helps identify the organizations and individuals strategically important to achieving these goals.
As a result of this careful planning and the open cooperation with partnering organizations, these teams are highly effective in building relationships, resolving concerns and enabling trade. Below are snapshots from three 2019 teams that have already completed their visits and returned home empowered to conduct business with U.S. farmers and agribusinesses.
Poultry leaders tour U.S. corn chain from field to port
The primary purpose of any trade team visit is education. The Council has provided information on the function of the U.S. grain value chain and the comparative advantages of U.S. origin to international customers for nearly 60 years. This information-sharing is a continual process, rather than a one-time lecture, especially as new players enter the market.
In Colombia, the third largest market for U.S. corn and a significant buyer of U.S. distiller's dried grains with solubes (DDGS), the poultry industry is the main feed grains consumer, estimated to use one-third of total corn consumption in the country. Most poultry producers are integrated and produce their own feed; some of these companies are family-owned and managed and have been adding younger family members or professionals to their management teams.
The Council is working to provide this next generation of Colombian poultry industry stakeholders with knowledge to help them understand how the U.S. export system works.
As part of this effort, a team of 12 future poultry leaders from Colombia and a national poultry federation representative traveled to Illinois, Arkansas and Louisiana in late May to further understand the U.S. feed grains and co-product export system from field to port.
This trade team showed these future poultry leaders how the U.S. export system has consistently been able to provide their sector with the most important ingredient of their feed rations —corn — and facilitate continuous growth and development. The team visited a farm; toured an ethanol plant and export facilities; learned how DDGS are produced; and discussed poultry rations with university experts and U.S. poultry industry leaders. The team also toured the USDA's Federal Grain Inspection Service (FGIS) labs and talked with independent surveyors in New Orleans.
These meetings and visits contributed to the training of these poultry leaders, making sure they understand the competitive advantages the United States can provide in terms of logistics, quality control and reliability. The trade team also enabled the Council to strengthen relationships with the Colombian poultry industry and, in turn, the feedback from these producers helps the Council better understand some of the most important corn customers in the country as the two groups work together to develop the industry and generate more feed demand.
Mexico trade team explores import potential for U.S. sorghum
Beyond education, trade teams also allow the Council to connect buyers and sellers. These face-to-face interactions provide opportunities to discuss what is needed — logistics, information, infrastructure — to take advantage of both short-term sales opportunities and long-term demand potential. By enabling a good trade environment through these visits, the Council helps both parties establish solid business relationships.
A team of Mexican end-users visited cooperatives, elevators and farmers in Texas and Kansas in May as part of back-and-forth trade missions to discuss opportunities for direct sales of U.S. sorghum into Mexico. The 2019 team followed a direct sales mission to four different markets in northern Mexico, organized by the Council in July 2018, which connected U.S. cooperatives with end-users capable of buying volumes of U.S. sorghum via rail.
The logistical advantages of geographic proximity and duty-free access under the North American Free Trade Agreement (NAFTA) make the United States an ideal option for sorghum imports for the Mexican swine and poultry sectors. High-volume exports to China had offset Mexican imports of U.S. sorghum in recent years; however, as Chinese purchases diminished, Mexico has returned to its role as a reliable buyer of U.S. sorghum.
Through back-and-forth trade missions, the Council is helping Mexican sorghum buyers develop strategic relationships with U.S. suppliers so they are able to originate U.S. sorghum efficiently and effectively from U.S. cooperatives and elevators.
These team members were importers who know the market and wanted up-to-date information on the sorghum market situation, including trade negotiations between the United States and China. As a result, the team members were keen to learn the latest on sorghum pricing, market outlook and trade policy.
Members learned about sorghum pricing and innovative logistical strategies used by U.S. agribusinesses to procure, ship and store grain. The team visited facilities in southern Texas that will soon be able to flex sorghum shipments between rail, truck and vessels as well as cooperatives in northern Texas that send rail shipments of sorghum directly to Mexican end-users. The team also met with sorghum producers and elevators with shuttle-train loading capabilities in both states and conversed about shifting crop rotations and costs of production and transport.
Trade teams like this one are just one part of the Council's efforts to provide timely marketing information on U.S. sorghum production, supply and demand to ensure Mexican buyers are positioned to buy U.S. sorghum when competitive in the Mexican market. For example, a similar team that traveled to Kansas following Export Exchange in 2016 contracted sorghum directly with one of the companies visited.
In the end, it takes end-users and producers working between the two countries to make these contacts and learn how to best navigate trade and market situations. Trade team visits, however, help these conversations take place and business move forward.
Vietnam ethanol producer purchases equipment, U.S. corn
Trade teams also help new customers explore the potential of using U.S. coarse grains and co-products. As a recent example, the sole ethanol producer in Vietnam is preparing to test U.S. corn as a feedstock with a hammer mill purchased during a mission to the United States in June.
Tung Lam Company is the only company producing ethanol in Vietnam and the company uses cassava as a primary feedstock. Prices of domestically produced cassava have increased since early 2018 due to a demand surge from China and other Southeast Asian countries, leaving limited supply available. As a result, Tung Lam considered converting cassava-based ethanol production to corn-based and began trial production earlier this year.
The Council organized a technical study mission to Indiana in June for a group of senior leaders from Tung Lam Company to learn more about the equipment and technology needed to increase corn-based ethanol production efficiency, learn from U.S. ethanol producers and study U.S. corn crop production.
The team also attended the International Fuel Ethanol Workshop & Expo in Indianapolis to gain exposure to and learn from U.S. ethanol experts.
The trade team visit was an ideal way for the company to learn how to convert its existing cassava-based ethanol plants to corn. The hammer mill purchased during the trade team visit gives Tung Lam the capacity to grind up to 150,000 metric tons (5.9 million bushels) of corn per year at its ethanol plant in Dong Nai. The company also purchased 40,000 tons (1.57 million bushels) of U.S. corn during their time in Indiana.
This visit was also an important component of the Council's fuel ethanol promotion in Vietnam — the fastest-growing economy in Southeast Asia.
Tung Lam is a strong domestic advocate helping Vietnam meet its current E5 ethanol mandate and continuing to increase fuel ethanol blends. The ethanol producer can provide a consistent supply of fuel ethanol to the domestic market, help pave the way for increased blend rates, new demand for corn imports and potential exports to fill demand needs exceeding Tung Lam's domestic production.
More connections to come in 2019
Other trade teams in 2019 will focus on topics ranging from craft brewers surveying barley production to biotechnology regulators learning how advanced breeding techniques benefit farmers to ethanol policy-makers exploring U.S. ethanol production and many more topics.
Each will have a carefully crafted agenda and specifically targeted members to help further the Council's mission of developing markets, enabling trade and improving lives.
Follow along with these trade teams on USGC's Facebook, Instagram (@usgrains) and Twitter (@usgc) channels to see what these important customers, end-users and policy-makers want to know and what they learn as they travel through U.S. farm country. ■