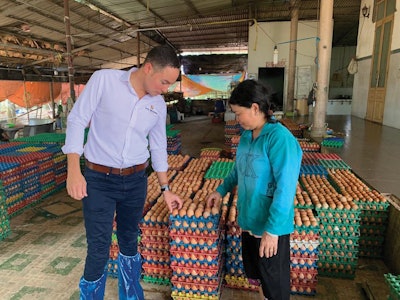 There are no rearview mirrors on the motorbikes in Ho Chi Minh City, as the saying goes, implying the Vietnamese people never look backward, but stay focused on the future.
That attitude has established Vietnam as one of the fastest-growing feed markets in the world with increasing demand for meat, milk and eggs from a growing middle class.
In less than a decade, Vietnam has grown to a top-three corn importer. The country is a significant importer of both U.S. corn and dried distiller's grains with solubles (DDGS) with future potential for U.S. sorghum. That same middle class and a nationwide blend mandate are creating additional demand for ethanol.
These factors combine to make Vietnam a focus of the U.S. Grains Council's (USGC's) work to capture the increasing demand for feed grains and ethanol export volumes for the United States. Growing populations, vibrant economies and a diversified marketplace with many competing products and origins signal this region will continue to be a significant engine of demand growth.
Vibrant market
The Southeast Asia region includes 10 members of the Association of Southeast Asian Nations (ASEAN) community: Vietnam, Brunei, Myanmar, Cambodia, Laos, Indonesia, Malaysia, the Philippines, Thailand, Singapore, Australia and New Zealand.
The region's demand for better quality proteins is growing. These products require significant inputs, and local feed production reached a record 104.3 million metric tons of compound feed in 2018, making Southeast Asia the third-largest feed market.
The USGC has a history of successful demand-building programs throughout the region. On-the-ground engagement provides a crucial understanding of both the aggregated opportunities and challenges in Southeast Asia and the nuances of each market as they develop.
As a result, U.S. corn exports to the region totaled 2.31 million tons in 2017/2018, roughly 15.7% market share. The U.S. export total for DDGS and corn gluten meal (CGM) reached 3.35 million tons in 2017/2018.
ASF impact in Vietnam
An on-the-ground presence is critical in Vietnam, where government policies and market situations can change quickly. Caleb Wurth, USGC assistant director for Southeast Asia, recently spent three weeks traveling throughout the country to assess the impact on African Swine Fever (ASF) virus on local swine production, overall feed demand for corn and DDGS and as well as inform the USGC's strategic approach.
Vietnamese producers are retooling operations where ASF affected herds. Producers are culling herds and clearing barns for layers, broilers or ducks. Producers are also expanding into aquaculture with freshwater ponds and offshore in cages.
In response, the USGC has begun working with local feed mills and DDGS importers to assist producers switching to poultry, layer or duck production rather than give up on raising animal protein.
If an effective vaccine is discovered, the USGC expects to see farmers revert to a similar pre-ASF protein mix, reinforcing the need to maintain long-term efforts. The USGC hired an aquaculture specialist for the region with U.S. Department of Agriculture's Agricultural Trade Promotion (USDA's ATP) funding, to help those efforts.
Corn and DDGS bulk shipments resume
Underpinning this trade servicing work is renewed access to the Vietnamese market for U.S. corn and DDGS.
The detection of quarantined pests in 2016 led to the Vietnamese decision to institute new fumigation requirements for U.S. corn shipments and suspended DDGS importation.
The Vietnamese government eased requirements for phosphine fumigation treatment and lifted its suspension in September 2017, following an intense effort by the USGC, USDA and other agriculture organizations and stake holders.
The USGC was on-site to welcome the first direct shipment of U.S. corn since 2016 as it arrived in May 2018. The USGC also witnessed the discharge of the first bulk vessel of U.S. DDGS sold under the new fumigation protocol.
The success of these bulk vessels arriving on Vietnamese shores highlights the importance of the industry partnering with the UDSA to keep markets open as well as the importance of having staff members in local markets who can react quickly and coordinate outreach on the ground.
Thus far in the 2018/2019 (Sept. 2018-June 2019) marketing year, Vietnam has imported more than 65,300 tons of U.S. corn in addition to nearly 1.07 million tons of U.S. DDGS, a 25% increase year-over-year. These strong sales are promising for the market's return as one of the top markets for U.S. corn and co-products.
Expanding ethanol use in Vietnam
Opportunities also exist within the Vietnamese ethanol industry. Vietnam started offering E5 on Jan. 1, 2019, intending to move to E10 by 2020. By 2020, Vietnam could represent a 225-million-
gallon ethanol market at an E10 blend rate, equivalent to roughly 80 million bushels of corn.
The USGC and its ethanol industry partners are supporting trade-friendly policies as the Vietnamese government and industry develop best practices to incentivize increased ethanol use.
More than 200 representatives participated in a joint Vietnamese ministry and U.S. industry ethanol conference on September 2018 that shared information on the new ethanol policy in Vietnam, the advantages of increased ethanol usage, studies on ethanol marketing to consumers and environmental benefits. The sole ethanol producer in Vietnam is now grinding U.S. corn with a hammer mill purchased during a USGC mission to the United States.
As the Vietnamese fuel industry expands, these efforts are paying off. After importing no U.S. ethanol for the previous four marketing years, Vietnam imported about three million gallons in the 2017/2018 marketing year and nearly 2.5 million gallons so far in 2018/2019.
Myanmar: The next Vietnam?
The USGC was working in Vietnam well before the country became a significant driver of demand in Southeast Asia. Similarly, the organization is perpetually on the lookout for other markets primed to take parallel paths of growth.
Today, that potential growth market could be Myanmar. Previously, political turbulence within Myanmar led to restrictions on foreign investment. Now, U.S. companies can invest in on-the-ground assets to import, handle and distribute agricultural products.
The USGC worked closely with USDA to make inroads with governing ministries and with leading industry members. The USGC held several discussions with key stakeholders on how U.S. origin feed grains can catalyze the growing feed demand in Myanmar, and the steps needed to ensure trade flow continues uninterrupted.
These efforts culminated in 55,120 tons of U.S. grains and co-products in sales in the 2017/2018 marketing year. U.S. DDGS imports continue to increase with 67,800 tons sold to Myanmar so far in the 2018/2019 marketing year.
Solidifying USGC's presence
The USGC is focused on market education and remaining engaged with traders and importers to show them how to capture the price and logistical advantages of U.S.-origin products.
The USGC continues to increase its presence in Southeast Asia, including adding expertise on aquaculture and staff dedicated to ethanol expansion, that allows the USGC to cover the vast the region. These expansions reflect the commitment to maintaining the global network necessary to assist markets like Vietnam and Myanmar that expand and flex quickly. ■