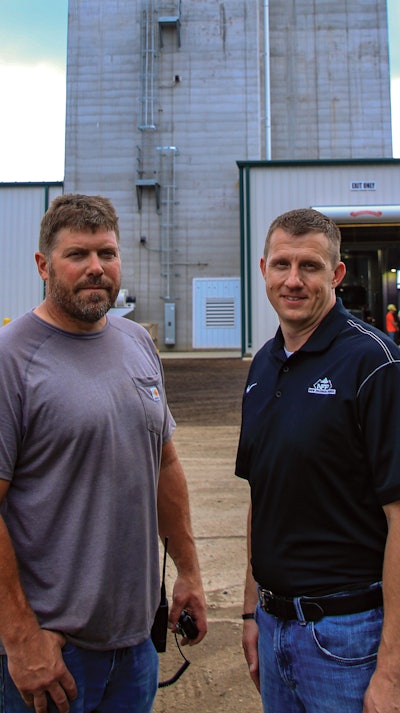 The view from the top of New Fashion Pork (NFP)'s feed mill in Round Lake, MN, is a breathtaking expanse of corn and soybean fields stretching to the horizon on all sides. Within that sea of green you can see the high school that company founder Brad Freking attended, and the Freking family farm where they started NFP. From that farm grew a company that now does business in seven states, markets 1.4 million hogs a year, and owns 60,000 sows and five feed mills.
Their newest mill in Round Lake, MN, will produce 150,000 tons of feed annually on an eight-hour shift. The mill represents the company's commitment to controlling its supply chain so that it can produce swine with more efficiency and sustainability.
Single farm to industry player
New Fashion Pork's story starts in 1994 when Brad and Meg Freking, his wife and business partner, expanded the farrow-to-finish operation and founded the company alongside Mike Wilson and Gary Dial. Brad knew that the swine industry was moving toward larger operations and wanted to be at the forefront of that movement. Over the next 25 years, the Frekings grew as opportunity presented itself. The company now has operations in Minnesota, Iowa, Wyoming, South Dakota, Illinois, Indiana and Wisconsin.
NFP believes in being transparent with its employees and giving them the power to make decisions. Managers are given monthly profit and loss reports, so they know how their department is doing, and are empowered to make changes they deem necessary to reach goals.
NFP has invested heavily in areas related to their pig operation fostering a circular economy to minimize waste .
"Over the last 10 years, NFP has gotten into reverse integration," says Chad Hastad, director of nutrition, research and operational support at New Fashion Pork. "The sustainability model that we continue to move toward is owning all the phases of the supply line. We raise the commodities, bring them to the feed mill, manufacture feed, take that feed to our pig farms, raise those pigs, send them to Triumph (company-owned processor), take the pig manure produced and put it back as the nutrients on the soil. That circle repeats over and over again."
Hastad says the ownership of the supply line also gives the company chances to ensure quality, traceability, safety and efficiency. The company plans to further grow its profits by reducing waste in the supply chain. Their new mill in Round Lake is the next step in this plan.
"The advantage of owning the supply line is that when the company has an idea or vision we want to execute, instead of negotiating with outside vendors, we can do it ourselves, the way we want, and at a reduced cost," explains Hastad.
Changing for the better
NFP began planning its new facility shortly after it finished construction on a mill in Switz City, IN, in 2014. The decision was made when NFP determined that updating a mill they owned in Worthington, MN, would not give them the returns they needed. Initially, the project was going to be built in nearby Jackson County where the Freking family farm is located. When the local cooperative out of Round Lake heard that a new grain purchaser was building nearby, they reached out and offered to sell the company to NFP.
"We had the opportunity to make an excellent deal on the land we built on," explains Hastad. "We purchased it along with the grain assets, grain dryer and storage from the co-op next door. Then we built our feed mill across the street."
The new site was just across the county line in Nobles County. The move delayed the building process as NFP negotiated with the new county and city of Round Lake.
"The counties have a difference in the tax rate," says Hastad. "We had to work with the city and the county commissioners to work on tax incentives. We didn't want to have an advantage; we just didn't want to be disadvantaged. The county worked very well with us to get the tax abatements we needed to complete the project."
NFP also changed the design of the mill from steel to concrete due to re-bidding the project. The Weitz Company out of Des Moines, IA, was awarded the bid due to its value engineering on a slip-poured mill. They also chose Weitz because of the company's response to their somewhat strained timeline and depth of resource to complete project in the detail they wanted.
"Late on a Friday afternoon, I called Alex Westlind at The Weitz Company, and explained that we were building a mill," says Hastad. "His first question was of course, 'When would you like to build it?' I shocked him when I said I would like to start construction in three months and they had two weeks to bid."
Hastad continued, "We had just gone through a series of replacing a lot of roofs on some of our other steel mills, so concrete became very appealing to us, but we were requesting what may have been the smallest mill possible with concrete. Weitz was able to put a proposal together in a very short amount of time, and everyone liked what was presented. We've been very pleased with what they've done, the details that they've put into it and how they helped us as issues arose"
The mill was constructed in a just under a year, all while overcoming delays due to the tumultuous weather across the Midwest. NFP finds this a success story. Its service area overlaps with a mill the company runs in Estherville, IA, that was running at 130% capacity and needed relief. That mill will now be able to slow production down with the new mill taking up the slack.
Simple, fast and productive
The efficiency of New Fashion Pork owning the supply chain is apparent in the operation of their new mill. There are two receiving bays, one for inbound ingredients and one for outbound feed. When a truck arrives with raw ingredients, corn, soybeans and DDGS, a sample is taken by an Intersystems Inc., Omaha, NE, probe and it is weighed by a Rice Lake Weighing Systems, Rice Lake, WI, truck scale.
The sample is sent to the control room that sits above the truck receiving bay, where it is tested for moisture content and test weight, other quality control testing is done at an independent lab. The control room can communicate with the drivers through intercoms and forms are sent through a series of pneumatic tubes.
The ingredients are dumped into a conveying system also provided by InterSystems and travels to a grain cleaner provided by Scott Equipment Co. out of New Prague, MN. It then continues to one of the 15 bins that sit above the rest of the mill totaling 1,250 tons storage capacity for the feed ingredients.
When the staff is ready to make feed, ingredients are taken from the bulk tanks, a 12-bin loss-in-weight micro ingredient system from APEC, Lake Odessa, MI, or totes that are unloaded at a station also built by APEC. The ingredients are then conveyed to a Scott Equipment four-ton twin shaft mixer, then sent through a CPM, Crawfordsville, IN, gyro sifter for cleaning then back to one of 12 finished feed bulk loadout bins. The mill has two roller mills from RMS Roller Grinder, Inc., Harrisburg, SD, and a hammermill from Bliss Industries, LLC, Ponca City, OK. The hammermill will be used if the mill sources grain ingredients other than corn.
"We make feed for ourselves," says Hastad. "We don't retail; we don't bag feed; we don't pellet feed; we don't post coat with fat. We are part of the supply chain, our part is to make traceable, high quality hog feed, really cost effectively — and lots of it."
This simplicity will allow the relatively small mill to make 150,000 tons of feed annually and have its fleet of CEI Equipment, Cedar Rapids, IA, feed bodies make continuous round trips from the farm to the mill in as little as 30 minutes.
It takes approximately four minutes to load a feed body when pulled from a single loadout bin. But if needed, the large 15-ton capacity loadout scale can be used to scale feeds from different bins on split loads.
"Because we sell feed only to ourselves we don't have to scale," explains Hastad. "We just open the bin on a single feed and fill the trailer as fast as we can."
The entire mill is automated with a system by Interstates, Sioux Center, IA, and can be run by just two employees. Between operators and truck drivers, 10 employees will be based out of the Round Lake location.
Planning for the future
The mill is completed, but the plans for the Round Lake location are not finished yet.
"We bought the grain facility next door with the vision that in the future, we'll make improvements there," says Hastad. "At that point, we will be able to convey the corn across the street to the mill."
This will ease ingredient receiving congestion long term, making the mill more efficient by offering more stage capacity and faster grain receiving. New Fashion Pork will continue to improve its supply line, adding efficiency wherever it can. In 25 years, the company grew from a single farm to a pork empire. No doubt the next 25 have a lot in store. ■