After the challenges of 2020, looking forward to the new year is a welcome change - even if most in-person activities remain restricted in the U.S. and the markets in which the U.S. Grains Council (USGC) works. Here, we look to the future with USGC president and CEO Ryan LeGrand to get his thoughts on the organization's priorities during the coming months.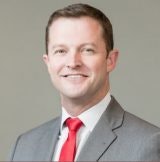 We've officially turned the calendar to 2021. Where do you see us going in this new year?
The reality is that most of our day-to-day operations will be about the same as they have been until COVID-19 vaccines are widely distributed. Our team members globally have been mostly teleworking since March, with a few exceptions in markets that restricted activities earlier, like China, and those that have had the virus under control enough to allow for at least periodic in-person activities or office work, mostly in Asia.
We are fortunate to be able to be flexible with how our team works together and puts on programming for stakeholders, and we've learned a lot about moving meetings, consultations and even trade teams into virtual environments. The reality is that we will continue with that for the time being, and travel will be on hold for some time.
We never actually stopped activity; in fact, some parts of what we do have only gotten busier from the day our staff packed up to work from home. But the format is different, and when we emerge from this, we will have many new ideas and options to carry into the future, too.
A new U.S. president will be inaugurated in a few weeks. How does that affect USGC's market development work?
Our market development work won't change with the change in administration; we have worked day in and out through all kinds of political scenarios for 60 years. That said, the Council will need to ensure that President-Elect Biden's team hears and understands our priorities for the continued expansion of exports of barley, corn, sorghum and the value-added feed and fuel products we promote overseas. Our products face many tariff and non-tariff barriers to entry into foreign markets, and we will be working with the new administration in hopes of improving global market access for them.
What are some of the priorities you have for the incoming Biden Administration?
We know some trade challenges are staring us right in the face, for instance the Brazil tariff rate quota (TRQ) on ethanol and approvals of biotech events in Mexico. We also need to maintain trade with China, which has been a real market high point recently and has provided much-needed demand for corn and sorghum.
We will be expressing the importance of new trade agreements that provide access for our products. We would very much like to see agreements finalized with one or more nations in Southeast Asia, as well as India. The United Kingdom deal has potential for ethanol, and a trade agreement with Kenya could set the stage in Africa for improved market penetration on the continent.
What do you want members and customers to know from you as we begin this new year?
We're seeing that strong demand exists for our products, not only from typical customers but from ones that wouldn't be in the top 10 every year. We have a chance to have an extremely solid year for exports when the last couple of years haven't been as great. Most of all, I want our members to know we are going to continue to be there working on their behalf in these important foreign markets. Our work continues to provide information and connections with those who buy our members' products every hour, every day.
And I most want our customers to know the U.S. feed, food and fuel export system is open for business and proud to be able to meet their grain needs despite the challenges we are all facing. We want to be there for our customers always, however we can be, though we are also looking forward to sitting down at the table with them for face-to-face interaction and dialogue very soon.