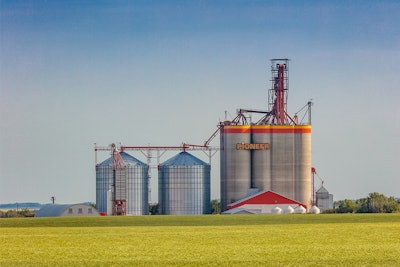 Courtesy of Richardson International
Richardson International plans to expand eight Canadian Pacific Kansas City (CPKC)-served elevators in western Canada, allowing future trains to be moved from these sites under CPKC's 8,500-foot High Efficiency Product (HEP) model.
Work on the elevators in Manitoba, Saskatchewan and Alberta will start in the summer of 2023 and be complete by the end of 2024.
"Richardson is committed to Canadian farmers and providing growers with modern, high-efficiency facilities and services," said Darwin Sobkow, Richardson's president and COO. "Expanding eight elevators will increase capacity and efficiency, enabling Richardson to further benefit from CPKC's single-line network reaching Canada, the U.S. and Mexico."
Richardson currently ships unit trains from 27 CPKC-served elevators in Canada and one in the northern U.S. The newest Richardson elevator at Carmichael, Saskatchewan, a greenfield grain elevator commissioned in early 2023, is their first 8,500-foot HEP site.
"CPKC is thrilled to have these Richardson elevators added to the growing list of already qualified 8,500-foot HEP sites across western Canada," said John Brooks, CPKC's executive vice president and chief marketing officer. "Richardson's supply chain and CPKC's operation will benefit from added efficiency, capacity and fluidity with this investment. Richardson's ability to run longer trains will mean more grain shipped per train, tighter cycles and more Richardson trains moving across our expanded, single-line network throughout the season."
In 2021, Richardson acquired Italgrani USA Inc., including the largest North American durum mill located in St. Louis, Missouri. The company said the CPKC single-line network creates a seamless pipeline to the Italgrani mill from the durum-rich areas in Saskatchewan to Richardson elevators.